Dozens of restaurants line Maginhawa Street, compressed tightly side by side, neon signs and wafting scents creating a sensory frenzy to anyone who walks by. The residential area has long been touted as one of the earliest food scenes in the metro, catering to the influx of students from universities nearby; developing a culture and reputation for food that is full on taste yet easy on budget.
Though the thriving industry continues to grow, the winding street have become tangled and saturated, making for a very difficult navigation, even to the more experienced visitor. Fortunately, aspiring restauranteurs have found the solution to this problem: A food bazaar.
Food bazaars are nothing new today but they haven't lost their popularity with Filipinos. The Fort's "Midnight Mercato" continues to be hugely convenient for party-goers who crave something to eat at 2:00 AM and Ortigas' "Banchetto" is a warm welcome to customers on a budget.
Food bazaars are casual, group-friendly, and has certain sense of excitement, but the main appeal lies in the amusing aspect of their concept: A buffet of cuisines all within easy reach. And for the Filipino who loves to eat more than one thing at once—that's practically a fiesta all year round.
It's no surprise, then, that someone picked on this idea and brought it to Maginhawa, creating the largest food bazaar in the area to date: The 101 Maginhawa Food Hub, home to 18 stalls and a festival of flavor.
A food fiesta
101 Maginhawa Food Hub is named after the number of the lot it is found on. Having opened just last September 1, all the Hub's 18 stalls offer various cuisines and specialty items, ranging from smoked meat sandwiches, Korean lunch boxes, and Indonesian fried rice.
Formerly home to an architect, the hub was built on the residential estate for its sprawling ground floor, where the stalls now stand. According to organizer Dodie Duarte, 101 Maginhawa Food Hub Owner Darwin Hapatinga chose this particular spot because of the openness of the space, saying, "Mahilig [yung mga previous owner] kase mag party, so…open 'yung garden [ng bahay] at open 'tong mga gilid. Kami nalang nag-add ng nipa hut para additional seating capacity and as an attraction sa mga pumupunta (The previous owners liked to party, so the garden and sides of the house were open. We added the nipa huts ourselves for additional seating capacity and as an attraction to the people who come here)."
Carefully chosen and arranged to fit the "food fiesta" concept, Duarte says that Hapatinga intended for it to be like a "food trip around the world," which explains the different international cuisines.
Six of the 18 stalls belong to Hapatinga himself, but the others he handpicked from previous food bazaars he worked in. Rent is flexible, since stalls pay on a day-to-day basis, and the stalls are free to leave whenever they want (except Hapatinga's). In fact, a contact book on Duarte's desk has a lineup of interested stalls waiting for an open slot in the Hub.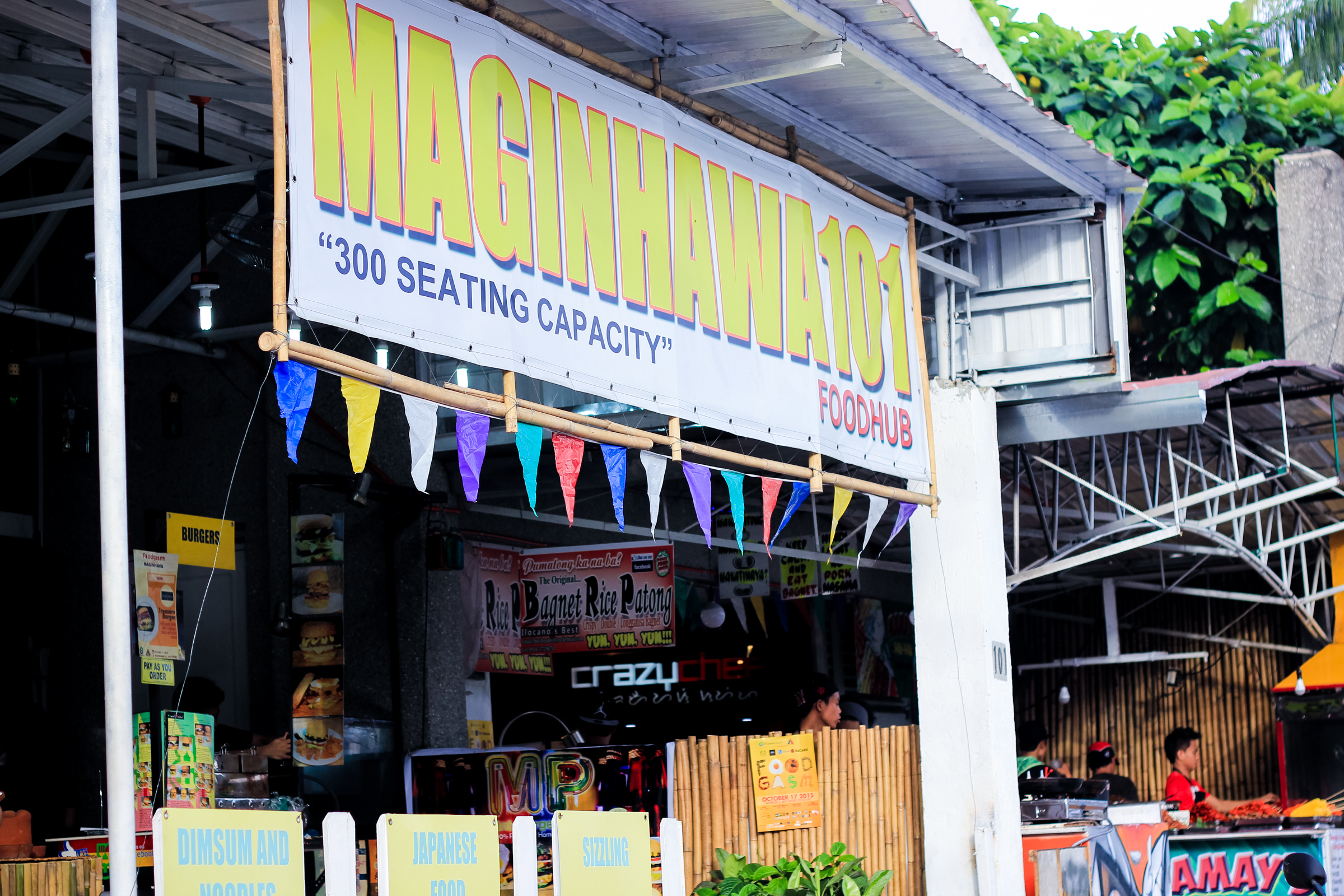 Into the festivities
Open Tuesday to Sunday from 3:00 PM to 3:00 AM, customers can pick from an array of Italian, Korean, Japanese, and Filipino cuisines, and much more. Aligned along the perimeters of the hub, the stalls are easy to navigate around and are set side by side for easy food-hopping. Since meal items can go for as low as Php 50, hungry eaters can sit down to a feast of more than one dish at a time.
At the forefront of the Hub itself, one can find the staples at any food bazaar: Fried street food and grilled meat skewers. Split into two stalls, Mamay's offers shawarma and the usual ihaw-ihaw like pork barbecue, and liempo on one end and mounds of fried food like calamares, kwek-kwek, and fish balls on the other. Bagnet Rice Patong, meanwhile, boasts their crispy bagnet and their sisig bagnet, combined in their best-selling item: The Double Bagnet. If you catch them still cooking their sisig, it can become quite a show with flames shooting out from their woks and the aromas of the succulent meat permeating the air.
One particular stall takes the word 'gimmick' to new heights: Burgers served in an array of colored buns such as blue, yellow, red, green, and black. Their Meal Point Burger House serves up delectable and fun combinations of burgers and add-ins that make for a juicy bite of salty-sweet meat. Their garishly colored buns top over 15 types of burgers that include classics such as cheeseburgers and melts, as well as unusual and exotic creations like the Middle East Rice Burger and Curry Burger.
Sumptuous Gourmet, another stall outside the main area, also serves up some meaty goodness. Specializing in sausages and steaks, this stall serves up quality meat at surprisingly cheap prices. Their rib eye, a top cut of beef, only costs Php 170 as a rice meal. Customers have the choice of having it served on a hotdog bun or over rice and can choose from an array of toppings such as sauerkraut and chili con carne.
It's not all savory in the Hub—Not Just Cakes contains rows of tantalizing cakes lined up on their table. From sponge to cheesecake, they have cakes in every color, size, and flavor. Their most eye-catching cake, though, is a bright purple delight: The Ube Pastillas Leche Flan Cheesecake. Pointed out as their best-seller along with their Mango Royale, it's a unique dessert to cap off the end of your meal.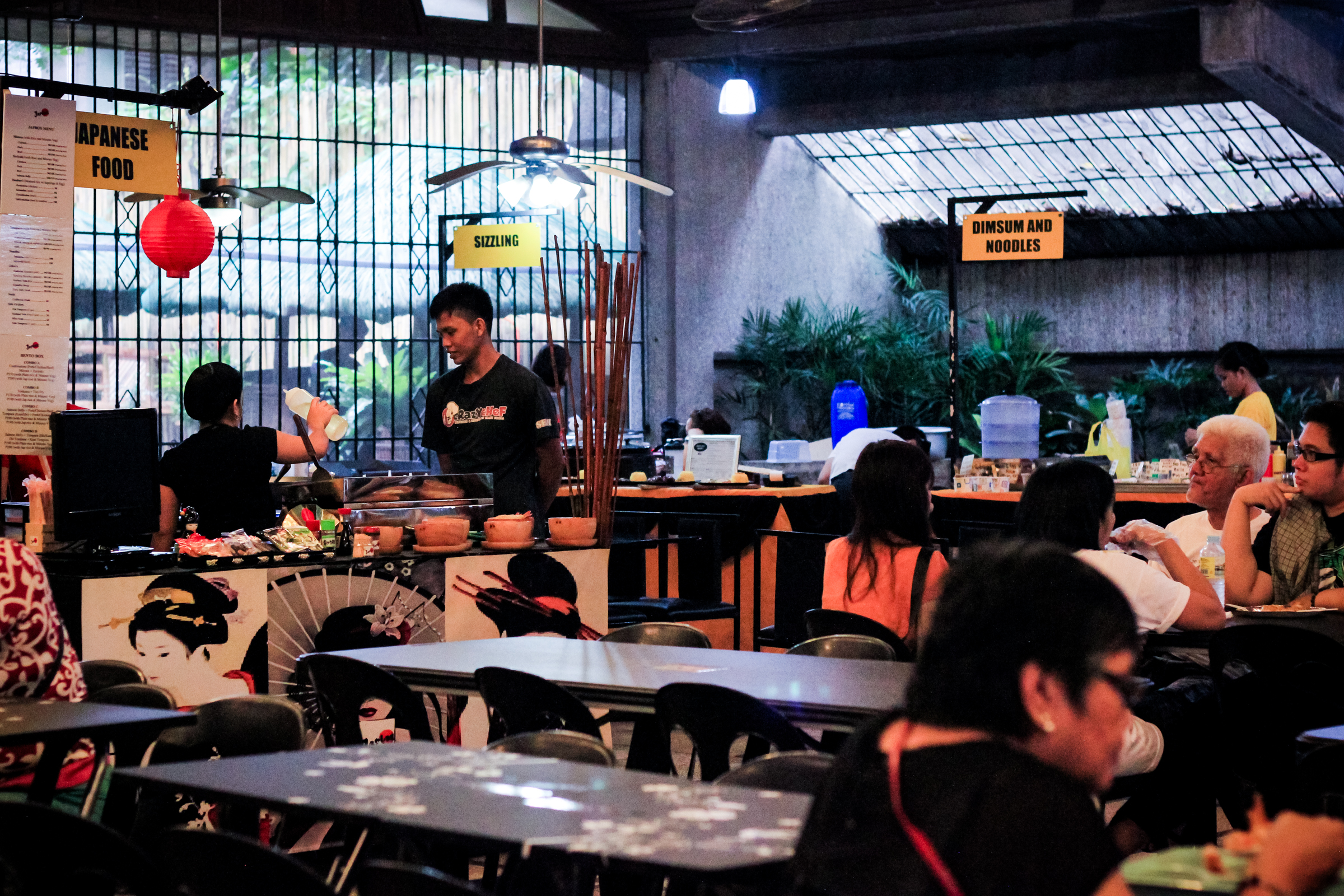 More than just a party
With customers coming in throughout the day for merienda, dinner, and more merienda, 101 Maginhawa is packed for most of its service hours. Despite being open for only less than two months, Duarte says business is booming.
"Siyempre sa umpisa mahirapan ka, so nag-invite kami ng mga kilala [namin]. Pero [last] three weeks, 'di na kami nag-invite. Talagang 'yung tao na lang pumapasok na (Of course, you'd really have a hard time at the beginning, so we invited people we knew. These last three weeks, though, we didn't invite anymore. It's really the people who come in themselves)."
Though having just started, Duarte shares that he and Hapatinga are eyeing more locations for the future. "Pero hindi na stall, foodtruck na. Meron kaming ina-eye sa C.P. Garcia 'chaka sa Tagaytay (They're not going to be stalls anymore but food trucks. We're eyeing [locations] in C.P. Garcia and Tagaytay)."
Food hubs, night markets, food trucks—they come to connect people to food in a communal fashion. It gathers cultures, cuisines, and flavors into a hodgepodge of intermingling gustatory sensations. It creates a pulsating beat, an enlivened crowd, a raucous energy. Gatherings like these make anyone excited, as they tinge the air with an enigmatic electricity. 101 Maginhawa lives on this energy, and this is why it seems that it will not be going away anytime soon.