From pescatarian to vegetarian and vegan, a good number of young people have recently made a shift towards eating cleaner. While the phenomenon of healthy living does include being in good physical condition, it goes a lot deeper than just that.
Delineating the diet
Nowadays, eating habits—and lifestyles in general—have evolved into something much more complex. What used to be a simple segregation of carnivores and the not has now branched off into a mile-long catalogue of diets. From vegetarianism to veganism, the list goes on and on when it comes to clean-eating practices.
Clean-eating is less about decreasing or increasing caloric intake, and more about focusing on consuming whole foods. Whole foods, or foods that are closest to their natural form, are unprocessed, unrefined, and contain no or minimal preservatives.
Vegetarianism is perhaps the most quintessential of these practices. Simply put, vegetarians abstain from consuming any form of animal meat (poultry, beef, pork, fish, and the like). This can further be categorized into Ovo-lacto vegetarians, who whilst excluding meat, they still eat both eggs and dairy products; while an Ovo-vegetarian diet includes eggs but not dairy products, and a Lacto-vegetarian diet includes dairy products, but not eggs.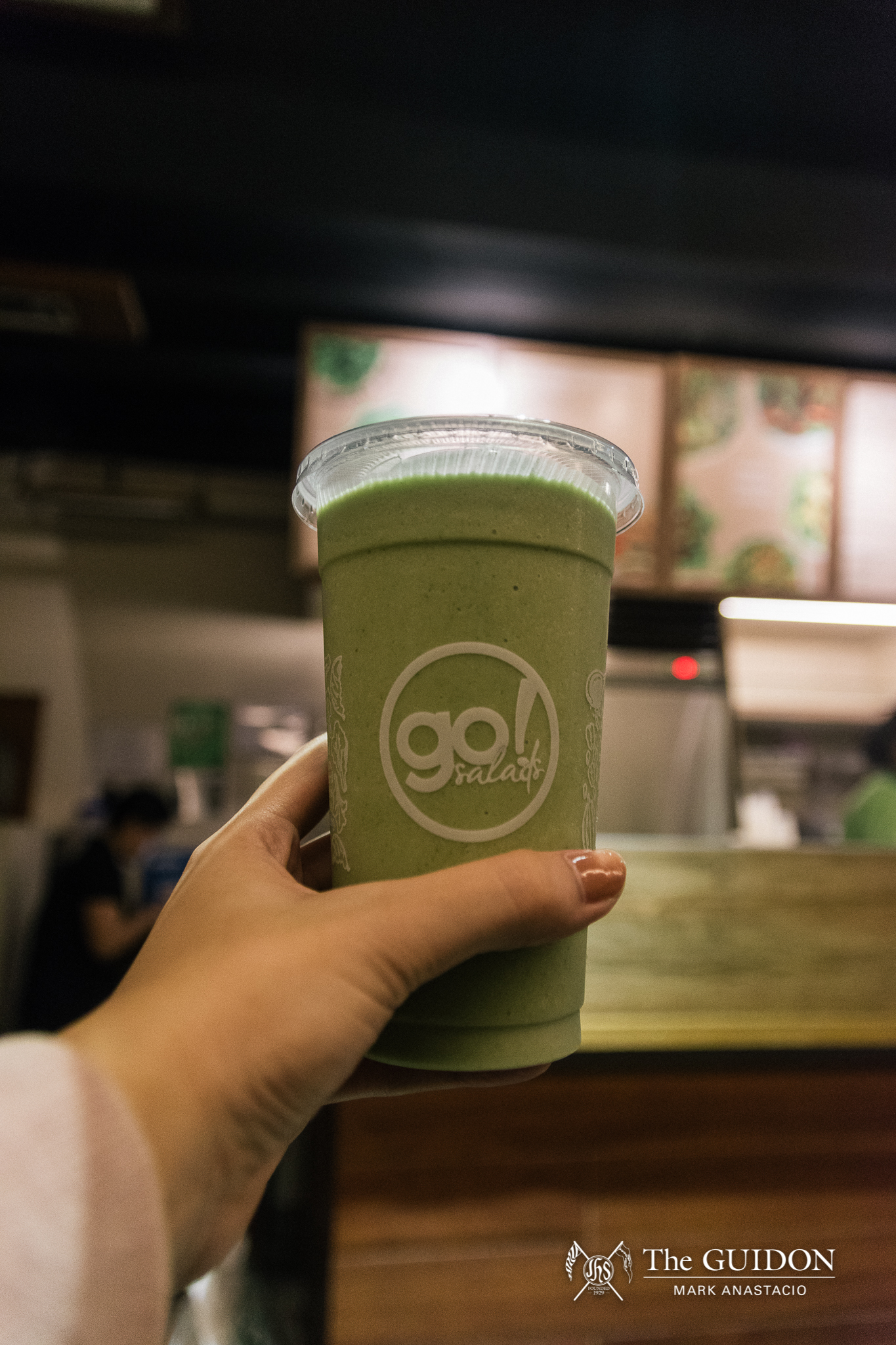 Another popular eating habit is veganism, which refrains from partaking not just meat, but animal-derived substances and by-products as well. Some more extreme forms of veganism exclude the use of non-consumable animal products, such as leather or silk clothing. The Vegan Society describes the practice as seeking to exclude all forms of exploitation of animals, be it in food, clothing, or medicine.
On the other hand, pescatarians' only meat source is seafood, though they still consume eggs or dairy. Pollotarians are similar to pescatarians, except their meat source is poultry, such as chicken. Flexitarians, on the other hand, still consume meat, but only on an occasional basis, their diets still being mainly plant-based. These three diet variations are all semi-vegetarianism practices, meaning that they still allow for certain (or all, in the case of flexitarianism) types of meat as a protein source.
Health concerns
Clean-eating diets reap many health-related benefits, as they veer away from food that is processed and filled with chemical additives. Instead, most of these diets mainly focus on raw, fresh food that is untainted by anything artificial.
For example, Kayla Francisco (3 BS PSY) became vegetarian last January 2016–and even tried being vegan for a while–after seeing a video of chickens being cruelly grounded. She recently shifted to a pescatarian diet, though, as it allowed her to have more strength when participating in CrossFit.
She explains that the average Filipino diet contains a lot of salt, sugar, and dairy, making it difficult to eat clean. "It's hard to find healthy and cheaper options," she says, "I used to make my own food lang at home."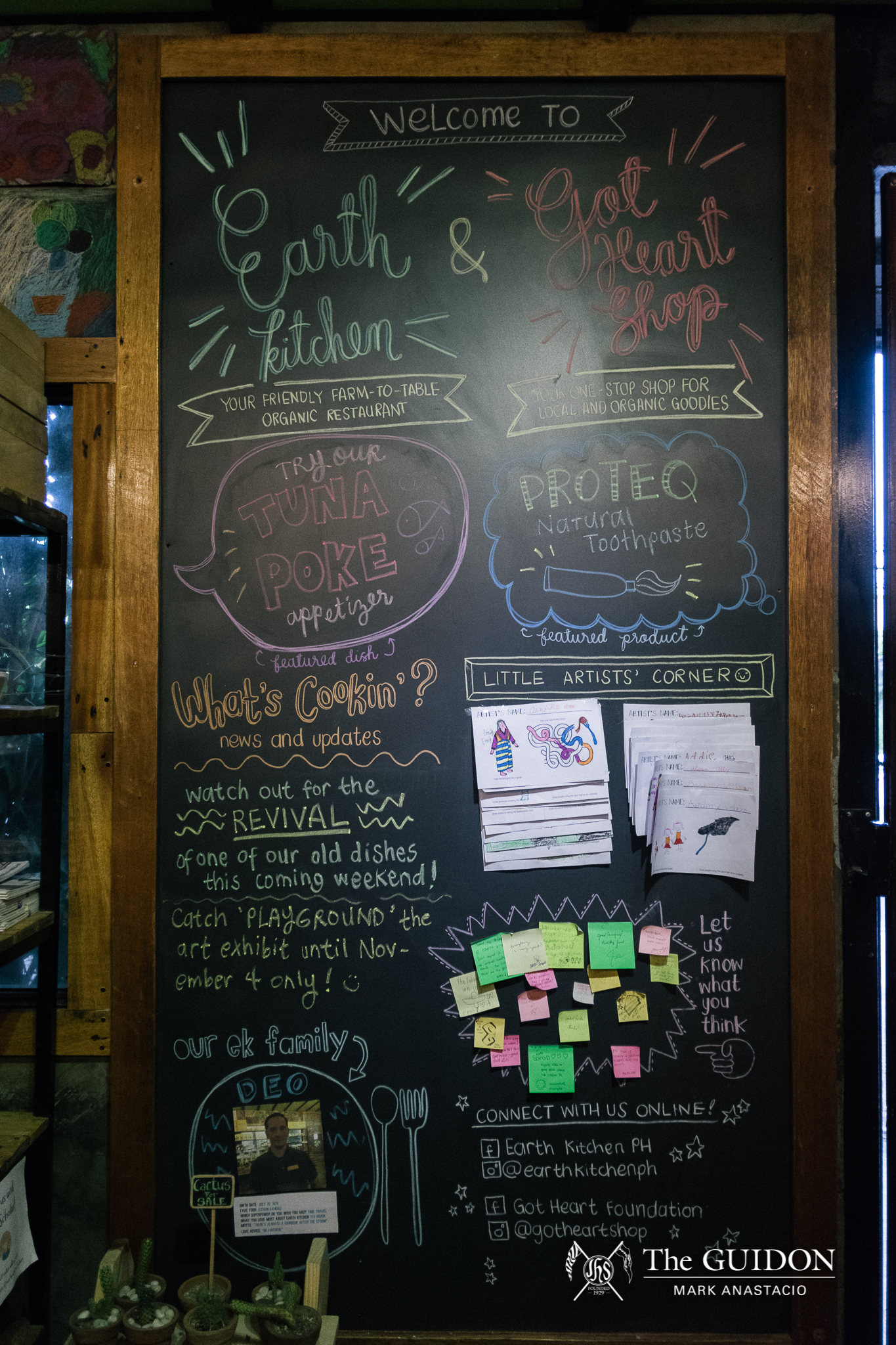 One health benefit of these diets is that it can combat illnesses. "I think people should really  push for a healthier lifestyle because there are already so many cases of obesity and heart attacks," says Katya Dimayuga (3 BS PSY), who chose to become pescatarian because of her genetically-induced high cholesterol levels.  
"My mom has arthritis," Ella Lazaro (3 AB ID) shares. "She read online that being vegan would help her illness, like an alternative medicine." Lazaro and her family decided to try veganism, but she considers herself a flexitarian, as she's not too strict on the diet. The choice wasn't made on her own accord, though, as it was her mother that shifted her family's diet and lifestyle. Much like Dimayuga, Lazaro's mother went to veganism as a curb for illnesses.
Eating clean for nature's green
Although meat-based diets can be clean as well–like how DowntoEarth PH sells produce grown on a biodynamic farm where animals are never given antibiotics, steroids, or growth hormones and are fed pesticide-free grass–some people choose to shift to plant-based diets because of ethical reasons.
Some would argue that these dietary practices are more than just an eating habit, but a philosophy as well. The environmental implications and ethics that accompany these practices fight for a cause that rejects the commodification of these animals, and instead sees them as sentient, valuable beings. People are changing their lifestyles as they become more aware of global issues such as climate change and animal cruelty. In a way, the shift to these diet practices has also been a form of silent protest for many. Lazaro's mother got so invested in veganism that she made the family watch health documentaries to help them understand the merits of turning vegan. Now, Ella herself is committing to the lifestyle because of sustainability issues, such as global warming caused by emissions in slaughtering cattle. "It's a choice for you, and a point for reflection. Imagine continuing to live life [the way] we do now, with global warming getting [worse]," she says.
Trisha Diaz de Rivera (1 BS MGT), on the other hand, was compelled to make a shift to veganism two years ago after seeing Cowspiracy: The Sustainability Secret (2014), a documentary about how animal agriculture contributes to global warming and deforestation.
It seems that eating clean is more than a personal act for some, but also a practice that allows one to manifest his or her belief that as citizens of the world, people have a responsibility to it and to each other.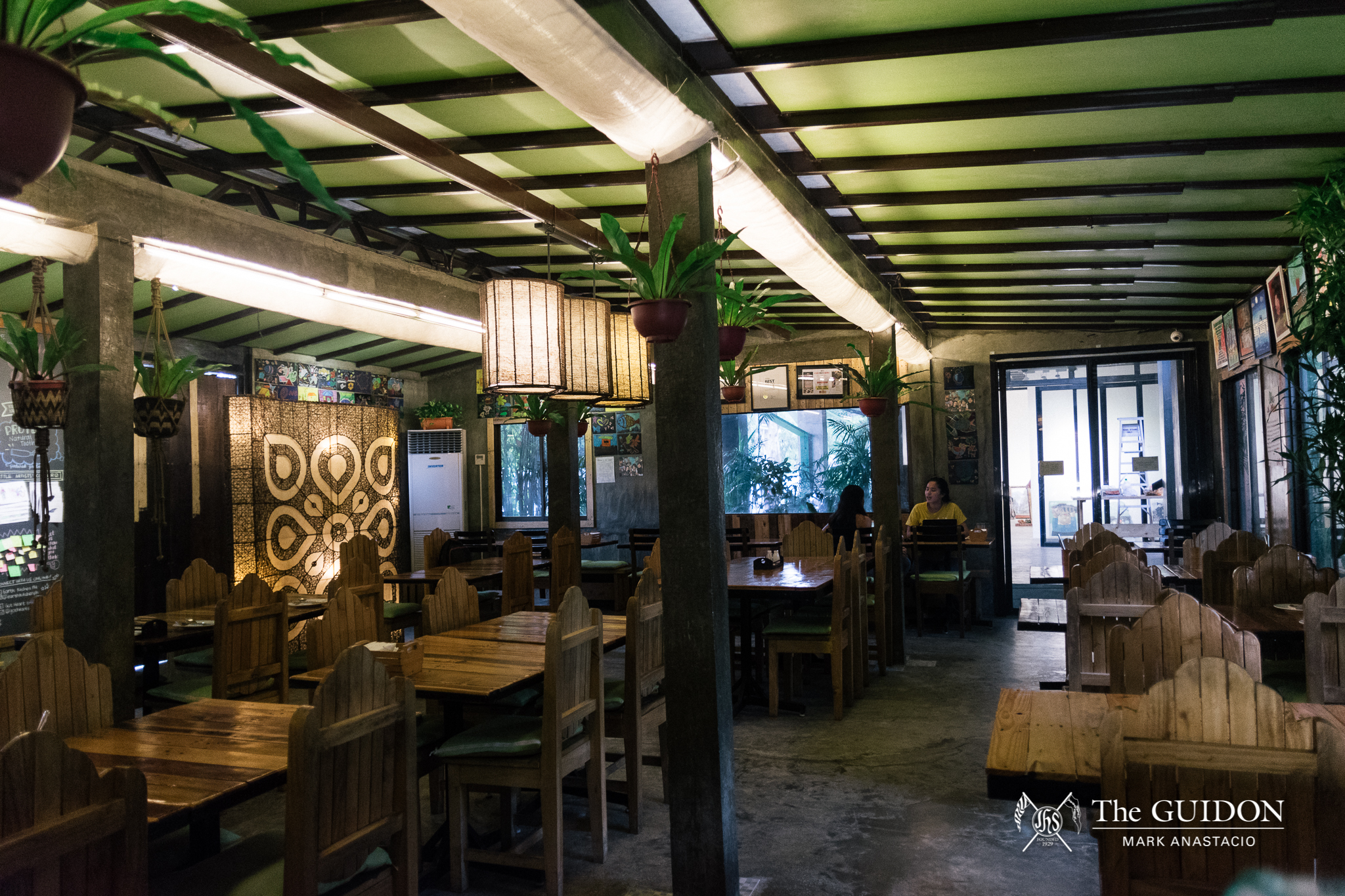 Economical eating
Although many people perceive eating healthy as unaffordable and inaccessible, Dimayuga says that this isn't necessarily the case. "There are times when you don't need a lot of ingredients and it can still be yummy, and you can [buy products] in the market or the grocery, not necessarily [from the] Healthy Options type of establishments."

Similarly, Lazaro admits on her end that the journey to being vegan is not an easy one. "What's difficult is taste and accessibility." She admits how some people assume that a plant-based diet is pricey. However, she says that the budget once used for meat, junk food, and other unnecessary items can be redirected to more whole, unprocessed food.
The idea of healthy food being "affordable," though, has been a recent issue. Celebrities such as Erwan Heussaff, who are advocates for healthy eating, have been panned for not taking into consideration the majority of Filipinos' financial situation in their campaigns. Eating healthy and properly can be considered as a luxury for many in this country.
For the long haul
"Healthy living is not like a one time thing, you really have to maintain it every day of your life," Dimayuga says. She explains that although these decisions are not without their challenges, the benefit of a longer life makes them worth it in the end. Since going pescatarian, she has felt more clean, and has noticed that she is less prone to getting sick.
For Diaz de Rivera, veganism has not just opened her eyes to the realities of the meat industry, but has also improved the way she feels about herself. "I noticed that my mood was better. I became a happier person in general!"
Lazaro's advice to rookie vegans is to get into the practice gradually. "Don't jump into it radically, [by] completely stopping eating meat."
For those looking to get healthy, here are some establishments around and near Katipunan that can help get you started with clean eating and satisfy your healthy hankerings: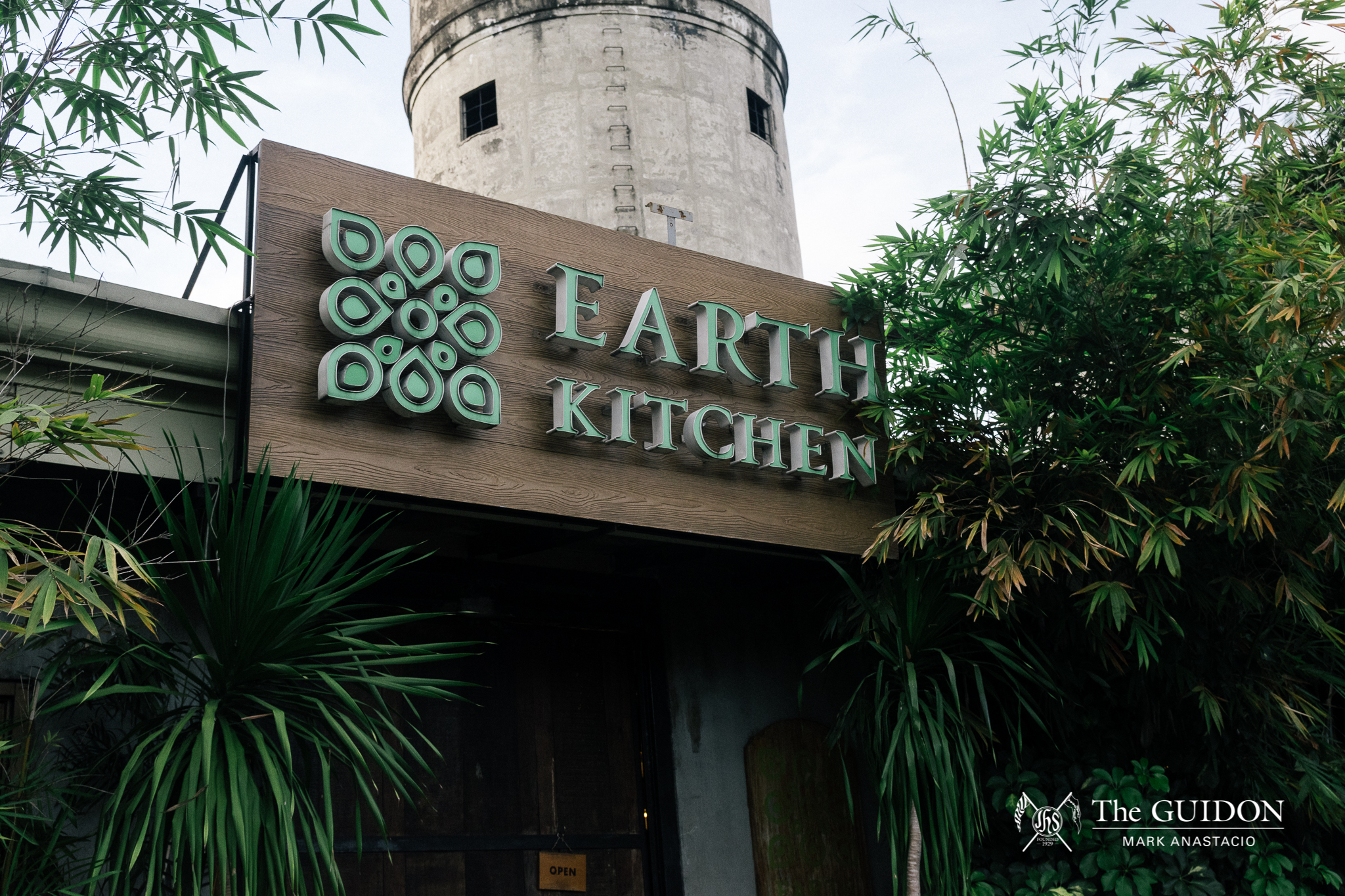 1. Earth Kitchen
Earth Kitchen, White Plains is a partnership project between the Got Heart Foundation and Hizon's Catering. True to the restaurant's name, its interiors present an outdoor vibe with its wooden furniture and abundance of indoor plants. The restaurant follows a farm-to-table model, their ingredients being local and organic. Owner Melissa Yeung-Yap hopes to sustainably support Philippine farming communities and their produce by eliminating the need for middlemen. Everything on their menu is made from scratch, and certain dishes are vegetarian or can be made vegetarian upon request. Some of their bestsellers include the Beef Kebab, Earth Kitchen Ravioli, and Goat's Cheese Ice Cream. Prices range from around PHP 200 to 400.
Address: Lot 10 B-10, Katipunan Avenue, White Plains, Quezon City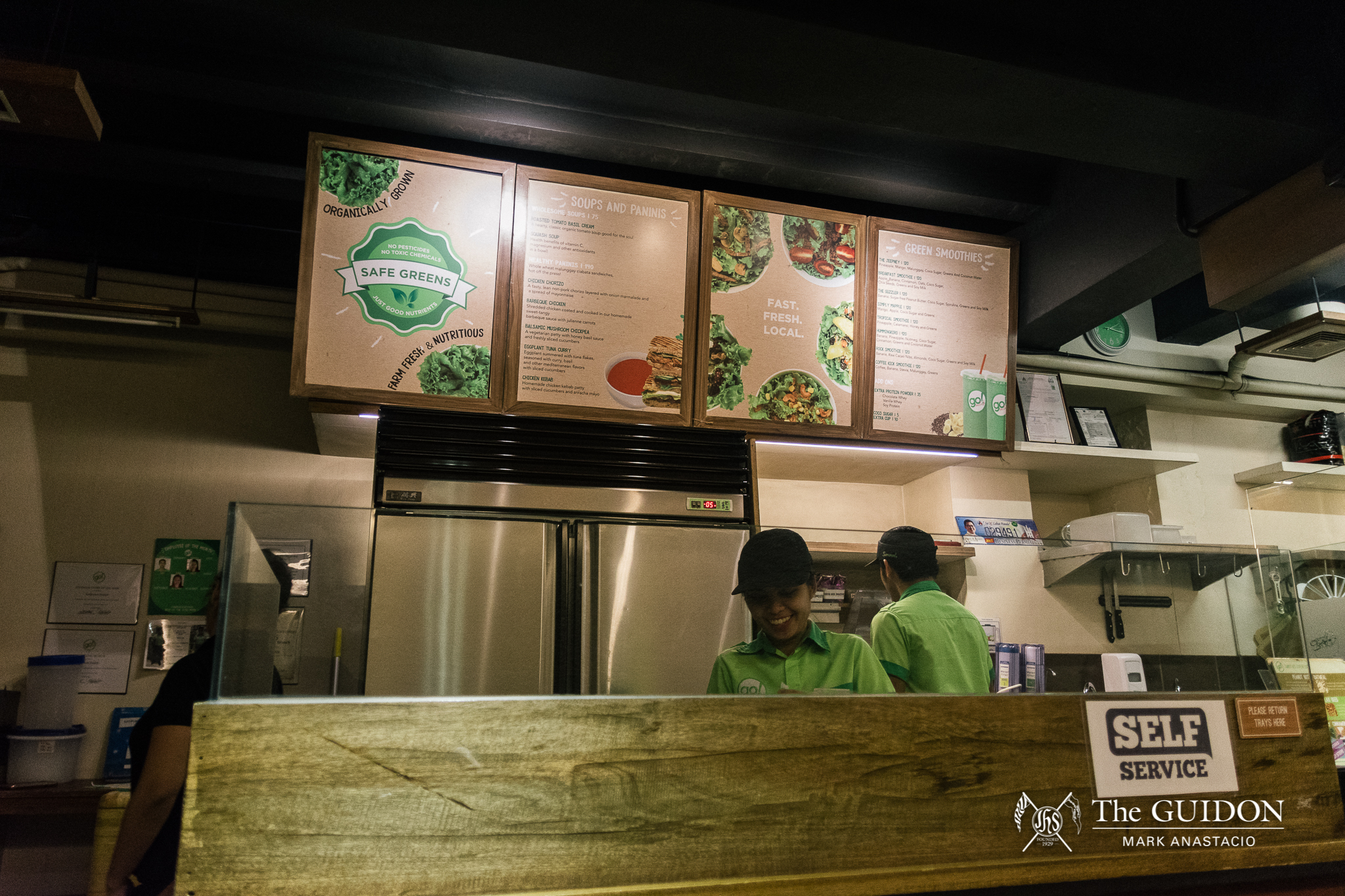 2. Go! Salads
Cibbie Gonzales grew up with salad being a staple during meals, as his family owns an organic farm of their own. Realizing that not a lot of Filipino families normally have salads in their homes, he decided to put up Go! Salads. The restaurant, popular for its to-go green smoothies and salads, aims to offer affordable and quality healthy products to its customers. Popular choices include The Guzzler smoothie, and the Sweet Caroline salad. Go! Salads also sells soups and paninis, their menu offering vegan, vegetarian, and pescatarian options. For the Katipunan branch, sandwiches, soups, and smoothies are ordered inside the small restaurant, while salads are bought at a stall outside. Salads and smoothies cost PHP 120, sandwiches cost PHP 140, and soups cost PHP 75.
Address: 325 F Dela Rosa Street, Katipunan Ave, Quezon City
3. Green Light Katipunan
Roots Katipunan is not just home to the hip co-working space Ateneans have come to know and love. It also shelters Green Light, an all-vegan, all-affordable eatery that offers fresh rice bowls, pasta meals, and burgers. Green Light fosters eco-friendly practices, by giving discounts to customers who bring their own lunch boxes or tupperwares. It's also known for overhauling the image that vegan food is pricey and devoid of taste, and instead, making it accessible and downright delicious. Their bestsellers include Tofu Sisig, Veef Nachos, and Mac n' Cheese, among other delectable dishes. Prices range from PHP 30 to 149.
Address: Unit 106 FBR Arcade (where Yellow Cab is, across Ateneo), 317 Katipunan Ave. Brgy. Loyola Heights, Quezon City
4. Pipino Vegetarian
Albeit not being in Katipunan per se as it is found in the lively streets of Maginhawa, Pipino Vegetarian is a fusion of homey Filipino cuisine and 100% plant-based ingredients. What began as a simple six-item line under Pino back in April 2010 as a tribute to Earth Day has expanded to a restaurant that is completely green. Offering a multitude of both vegetarian and vegan options, the place is best known for veganizing Filipino dishes such as pinakbet risotto and kare-kare with black bean bagoong, with desserts like homemade cupcakes, ice cream, and cookies (not to worry, they're all vegan too). Prices range from PHP 155 to 455.
Address: 39 Malingap Street (2nd Floor), Teachers Village, Quezon City
5. Salad Break
Perhaps the most convenient proximity-wise out of all restaurants in this roster is Salad Break, which aims to offer Ateneans fresh, sumptuous salads. What makes this humble Gonzaga Up kiosk stand out from the rest is its "make your own salad" option, where you can choose greens, fruits, dressing, and other toppings such as chicken or pork to create your personalized salad. Payment for this option is on a per-weight basis (PHP 20.80 per 100 grams). If you are in a rush, they offer pre-packed salads as well, such as the classic Caesar salad, or their zesty Kani salad, among others. Pre-packed salads all sell at PHP 99.
Address: 2nd Floor Gonzaga Hall, Ateneo de Manila University, Quezon City
Featured photo by Mark Anastacio