Between The Buns
By Manuel M. Aldeguer
The name of the game is chicken schnitzel sandwiches for Between the Buns. The stall isn't exactly German-themed, as the schnitzel and pretzel buns are incorporated with elements from other cuisines. Regardless, you'll definitely have yourself a treat with their chicken sandwich, crinkle sandwich, and popcorn (which is unfortunately not in sandwich form).
Taste – 4/5
The best-selling Hot Chick's chili con carne tends to overpower the milder tasting mozzarella without ever giving that extra kick of hotness, which could disappoint those who love your food extra spicy. My personal favorite, the White Chick, is nothing unusual, but the tangy honey mustard, generously seasoned chicken, and smokey bacon is a combination definitely worth coming back for.
Originality
Chicken sandwiches are not a difficult find on campus. What allows Between the Buns to stand out is their custom-made pretzel buns that add an extra layer of bold, toasted flavor with a mild sweetness to it that a standard sesame bun does not have. They also attempt to bring loosely Japanese, Mexican, and Western flavors through their Katsu, Hot, and White Chick respectively. You can also get popcorn as a side, which should be a done deal for some looking to satisfy a craving.
Value for money
These are not the biggest of chicken sandwiches, though it could be argued that they make up for their size in flavor. The Münch Poppers are easily what you will get the most out of with the money you spend, considering most theatres charge at least Php 20 more for the same portion of popcorn. Those looking for something on the sweet side will be happy to know that the Crinkle Jax will provide them an affordable fix.
Fulfillment of expectations
Many eaters will enjoy what Between the Buns has to offer, since the flavors in store should not stray far beyond your comfort zone. That being said, this is a sandwich experience that deserves a first try, and possibly, a second trip.
Overall rating – 3.5/5
Husband and Waff
By Manuel M. Aldeguer
If you were underwhelmed by Taco Bell's breakfast waffle like I was, chances are you've lost faith in all waffles that don't involve butter and syrup, chocolate, or fruits. If that's indeed the case, Husband and Waff may be the place for you.
Taste – 4/5
The apple crumble waffle features melt-in-your-mouth apples that have a sweetness that wasn't too overstated, even if it was coated in syrup. The chicken waffle's ketchup and garlic aioli combine for a sharp, zesty blend that is surprisingly reminiscent of barbeque sauce, complementing the saltiness of the tender, well-seasoned chicken strips. I am personally partial towards the tuna waffle, which marries the tuna with the mellow sweetness of the waffle.
Originality
It's difficult to try new things with something like a waffle without coming off as too gimmicky. Thankfully, Husband and Waff doesn't ditch wheat bread just for the sake it. Although the familiar flavors offered by the sweet waffles are satisfying in their own right, I strongly recommend you give the savory waffles a chance.
Value for money
All waffles on the menu are reasonably priced at Php 70-80. The filling of each waffle is packed with flavors ranging from syrupy to spicy. You'll definitely be getting your money's worth if you're looking for something not too filling that could work as a meal.
Fulfillment of expectations
Although Husband and Waff doesn't take too many liberties with its menu, I'm hoping they experiment with their waffles in the future, especially their savory ones. Their waffles are great for a light on-the-go meal or heavy snack.
Overall rating – 4/5
Whip It!
By Luisa C. Jocson and Franco M. Luna
Fresh from the success of yesteryear's The Drinkredibles, creator Sherry-Anne Gonida brings blended drinks back to JSEC with a caffeinated twist: customizable drinks that come in cream or coffee bases. In the scorching heat of Katipunan Avenue, it's no surprise that frappes are in demand among the university's students.
Taste – 3/5
The coffee base provides the bitter satisfaction one expects from brewed coffee, and this comes out fused with the more gentle sweetness of caramel. The collective flavors come out (a little too) gradually, leaving behind a nutty aftertaste. Upon first sip of the matcha cream frappe, the flavor thankfully does not assault you, as the sugar and cream overpower the subtlety of the green tea. In effect, the matcha frappe comes off as a bit too sweet. Although a little watered down, both favor a frothier consistency, making them as thirst-quenching as they are satisfying. However, the main issue with both is that the flavor fails to leave behind any lasting impression.
Originality
While Whip It! does nothing groundbreaking or new with the blended beverage concept, the execution is pulled off well. If you're bent on satisfying an intense craving for matcha, this proves to be the best thing you can get on campus.
Value for money
Despite being a little on the steep side in terms of price, it's important to see Whip It! for what it is: easy access to blended coffee for a price range of Php 60-90, and a decent fix for the days when a morning jolt is all you need. Simply put, it's a budget cafe for the college student in need.
Fulfillment of expectations
Their takes on timeless classics hold their own when compared to a typical coffee house. While they are most definitely a notch or two above vending machine joe, coffee connoisseurs would do well not to expect the next big thing here, but rather take it for what it is. Regardless, for now, it serves its purpose.
Overall rating – 3/5
Smoothie Operator
By Luisa C. Jocson and Franco M. Luna
For the health conscious Atenean, you may be getting sick of your usual go-to establishments such as Go! Salads and Kenny Rogers. However, never fear, for you no longer need to venture off campus to get your fix. Meet Smoothie Operator: the newest stall gracing the space along the MVP Basement and home to Ateneo's most salubrious refreshments.
Taste – 4/5
The standout of the bunch, the Island Smoothie, is a burst of tropical goodness. At first sip, one's senses are flooded with a flurry of fruity freshness, further elevated by a dash of greens, giving it a mellow yet citrusy punch. Reminiscent of a malted milkshake, the Choconut smoothie's masterful balance of each ingredient is shockingly not as sugary as one would expect, given its fruity overtones. The Spring Smoothie, made of berries and bananas, lacks that oomph its counterparts possessed, with the banana overpowering the berry flavor, rendering it somewhat bland and unspectacular.
The stall's two pastry variants also deserve recognition: the Chocolate Chip cookie is an instant treat but registers a little too sweet, while the Coffee cookie invokes the Kopi Roti bun in the best way possible.
Originality
Of their stall's advocacy, owner Monina Pastrana shares that "[they] try as much to be an environmentally conscious stall [and they] don't use dairy products at all; [they] use soymilk products for all [their] smoothies." Additionally, straws are a no-no for this stall as well, which furthers their admirable dedication to their advocacy of eco-friendliness.
Value for money
Reasonably priced at Php 80-85, their refreshments are as easy on the wallet as they are on the palate. Health nuts and the curious alike will feel more than satisfied after the last sip, as their smoothies are as filling as they are refreshing; in short, yes, it's worth the money.
Fulfillment of expectations
From a smoothie, one would expect the average blend of milk, syrup and fruits—Smoothie Operator delivers just that and so much more. Ultimately, Smoothie Operator's artful ability of balancing healthy without sacrificing appeal outshines its minor drawbacks; its overall quality and nutritional bonus have certainly changed the iced-beverage game of the university.
Overall rating – 4.5/5
Just Fried Chicken
By Dani D. Reyes
There will always be an abundance of chicken variants in JSEC—whether it be fried or baked, Singaporean or inasal, Ateneans can safely say they have their bases covered. The competition has always been about ingenuity. Can Just Fried Chicken make the cut?
Taste – 4/5
Just Fried Chicken's chicken is tender and well-cooked. Their Classic variant is exactly that—the combination of butter and chicken cubes makes the perfect creamy gravy, and ultimately makes this dish worth coming back for. On the other hand, the sauce for their Korean Fried Chicken is a bit too thick, which makes it hard to taste its tangy sweetness. Their chicken nuggets are well-cooked and soft, and the sweet barbecue sauce is abundant.
Originality
The stall's Classic gravy is memorable and makes a familiar dish stand out, since the buttery taste of the gravy complements the seasoning of the chicken well.
Value for money
You won't regret spending your money on their Classic fried chicken, which is Php 80 for one piece, and Php 120 for two. It's cheap and also worth the money.
Fulfillment of expectations
There are many places to buy fried chicken from, but Just Fried Chicken's Classic chicken is a sure winner among your regular cafeteria variants. In short, it's a no-frills fried chicken with spectacular gravy; it's hard to regret buying their Classic chicken, especially at their prices.
Overall rating – 4/5
Mei Shi
By Luisa C. Jocson and Franco M. Luna
For most, the thought of Taiwanese cuisine brings to mind oriental noodle-based dishes and swanky fine dining bistros set up against a backdrop of Taipei City's bright lights. Despite its lack of recognition, the uniqueness of the country's vibrant night markets is just what Mei Shi brings to JSEC: straightforward, no-nonsense Tawainese street food, in all its zesty glory.
Taste – 5/5
Taiwanese cuisine is shaped not only by its aesthetic simplicity but also its complex flavors and Mei Shi delivers just that. Their best-selling chicken poppers with rice is a dish that stuns from start to finish. Offering a generous serving of slightly tangy chicken, the dish comes in bite-sized nuggets that are juicy and tender, with light, crispy skin. This is best served drenched in their gravy, which bursts with a zesty quality. The meals are accompanied by shabu-balls and wanton, which are light but tasty overtures to the meal. The dish is, overall, well-packaged, a cross between the delicacy of oriental cuisine and the simplicity of street food.
Originality
Mei Shi's proprietors get their way by putting authenticity first and letting the rest follow, and this ends up being their standout: in a JSEC where mimicking cultures is a trend, it comes as a surprise that Taiwanese food has not yet been done before. This, coupled with the fact that this is the only stall serving milk tea in JSEC, is what contributes most to Mei Shi's appeal.
Value for money
Considering their main attractions are priced below a hundred pesos, with the specially brewed milk tea being sold for a little under half that, you can be sure that you get your money's worth when choosing Mei Shi.
Fulfillment of expectations
It's a complete guarantee that you will leave Mei Shi one hundred percent satisfied. On top of that, you walk away experiencing a new culture without having to go too far. From the get-go, it's clear that the stall's owners don't cut any corners when it comes to ensuring the experience is the best it can be.
Overall rating – 5/5
Singapore Express
By Celine D. Natividad
Asian cuisine is something that most people are familiar with. Most automatically think of Japanese, Korean, or Chinese food. Singapore Express, however, offers students a slightly different take on stereotypical "Asian" dishes.
Taste – 4/5
Singapore Express' Chicken Satay gets its sweetness from its rich peanut sauce, which greatly compliments the soft and well-seasoned meat. Their Cereal Crusted Salt and Pepper Fish melt in your mouth like butter. However, if eaten without the vinegar dip, the dish seems rather salty. However, their Salted Egg Squid was coated too thickly – which only resulted in a dissatisfying starchy taste.
Originality
Singapore Express definitely stands out, as it is the only stall which offers Singaporean cuisine. It offers various dishes which aren't usually found within campus, such as their Salted Egg Squid and nutty Chicken Satay.
Value for money
Although the dishes are delicious, the serving size may not be filling enough for some. The Chicken Satay had a reasonable amount of viand for the rice, however the two other dishes had smaller servings.
Fulfillment of expectations
Singapore Express does exactly what their name implies and pulls it off exquisitely—you can't help but rave over the flavors their dishes present.
Overall rating – 3.5/5
The Dog Pound
By Andrew D. Cambri
Good hot dogs on-campus—that aren't Tender Juicy—can now be found just at the mouth of JSEC: The Dog Pound. With their assortment of hot dogs and sides, The Dog Pound is shaping up to be one of the best places to get a snack on campus.
Taste – 4/5
Their best-selling offerings are the Samurai Dog and the Nacho Platter. The Samurai Dog's juicy sausage and strong, savory sauce will keep you wanting more, but on the other hand, the Nacho Platter tends to be a bit flatter and dull in flavor, even if it does have a very generous amount of beef and cheese. However, the nachos don't become soggy despite the toppings. It is a lot more satisfying in small servings – indeed, it's far better to share a Nacho Platter than to eat it all on your own.
Originality
While sandwiches are very common on campus, there has definitely been a lack of variety of hot dogs. This is where The Dog Pound has successfully managed to capitalize in the niche of putting food in bread. Those craving for good hot dogs can expect nothing less than the best from The Dog Pound, especially with the quality that they put into it.
Value for money
The hot dogs have been priced at standard JSEC prices, Php 85 for a solo meal and Php 110 for a combo. On the other hand, the desserts come in large portions and could probably serve as meals on their own.
Fulfillment of expectations
Overall, one would expect a stall called The Dog Pound to be the top dog on campus when it comes to cooking up their namesake dish —and they deliver 100%. However, perhaps in comparison to the perfection of their hot dogs, they have slightly lagged in their side dishes.
The Dog Pound has definitely set out to make the best hot dogs in the Ateneo and with the quality and taste that comes with every bite, they have definitely succeeded.
Overall rating – 4.5/5
The Bread Poets Society
By Celine D. Natividad
Filling Matteo Up with a mouthwatering smell every morning, The Bread Poets Society wishes to serve students a snack they can enjoy at any time of the day. Aside from their sandwiches, the stall also offers palette cleansers, which come in the form of cookies, revel bars, and brownies.
Taste – 4.5/5
The Bread Poets Society's Cream Chicken Pesto Baguette provides you with a crisp crust and a flavorful chicken and pesto filling where you can just taste the basil. Their Grilled Cheese Brioche also offers a new taste to the standard grilled cheese sandwich. With the brioche and honey adding in a hint of sweetness, the sandwich provides you a taste that mellows down the sharpness of the cheese which some find overpowering.
Originality
Sandwich stalls aren't a new sight within the Ateneo community. Various other stalls also offer students a mixing and matching of sandwich ingredients they want at a similar price range. Yet, there is no doubt that students will flock to this stall because of the demand for good-tasting sandwiches. Sandwich stalls are a staple in JSEC—and for good reason, as sandwiches are easy to eat and easy to bring around—which is why The Bread Poets Society will still likely remain popular.
Value for money
The sandwiches offered by The Bread Poets Society are undoubtedly delicious and flavorful, yet with the prices these sandwiches come with, one can't help but wonder if spending their money on a rice meal rather than on a snack would be more worth it.
Fulfillment of expectations
Although the sandwiches they currently have are superb in taste, the lack of variety is something which can be commented on, though it should also be taken note that most stalls also offer just three choices to select from.
Overall rating – 4/5
Spice Guys
By Andrew D. Cambri
While Mediterranean food is a tried-and-tested idea on campus, the Spice Guys have managed to kick it up a notch. With their creative twists on shawarma and their masterful balance of taste, the Spice Guys are sure to be a great stopover for those craving for a piece of the Middle East in their plate.
Taste – 5/5
Beef Shawarma on rice with pita and hummus is a typical Mediterranean dish. But with their abundance of tomatoes, flavorful garlic sauce, and tons of beef, all on turmeric rice, they've managed to soar beyond the rest and create an incredibly luscious medley of flavor. Their pita may just be pita, but the strong and rich-tasting hummus it comes with elevates a piece of bread into a great treat.
Originality
On or off campus, you're not going to find any shortage of shawarma. However, the way The Spice Guys has managed to make their shawarma into an appetizing rice dish is spectacular. Of all the many shawarma places around the Katipunan area, the Spice Guys prove to be a major competitor.
Value for money
The Spice Guys prices their menu similar to standard JSEC prices (ranging between Php 80-120), but considering the consistent quality of their dishes, there is no doubt that the pricing is perfect for what they serve. Wallets and stomachs will not be disappointed when they come here.
Fulfillment of expectations
Shawarma and pita bread are kind of common around the city, but the Spice Guys have managed to create quite the tasty twist on a well-explored idea, turning it from just another döner stall to being a savory stopover. Shawarma lovers will flock to this stall for many months to come.
Overall rating – 5/5
Forked
By Celine D. Natividad
Most students live busy lives: they balance their academics with work, organizations, sports, and social life. Some even forget to eat altogether, due to their jam-packed schedules. Forked offers these students comfort food that will no doubt give them their money's worth.
Taste – 3.5/5
With a large piece of meat coated in their signature Sticky Pork Belly Sauce and a side of mixed vegetables, Forked offers students a simple dish with their small set of ingredients. It also offers a straightforward sweet and sour taste—a flavor you would expect of a sauce that is primarily tomato based but with added soy sauce.
Originality
Offering a rice meal with a side of vegetables, and meat as the main viand, the idea is definitely not a new one. Like many other stalls, they offer a variety of flavors through their dishes: spicy Jalapeño Ranch Chicken, savory and creamy Burger Steak, and sweet and sour Sticky Pork Belly.
Value for money
The meals are standardly priced compared to other JSEC stalls. Forked offers you flavors which most people are familiar with that would no doubt make it easier for you to choose which to eat.
Fulfillment of expectations
Although undoubtedly a delicious and filling meal, Forked's Sticky Pork Belly was simply satisfactory or just right. With the names of the dishes they had provided, their taste is exactly what you'd expect them to be. Although they taste good, the dishes don't stand out, which may make them easily forgettable.
Overall rating – 3/5
Hula Hut
By Ching M. Balina
JSEC goes tropical; Hawaiian flavor arrives for the first time from 5445 miles away, thanks to the Hula Hut. The stall uses sweet, zesty, and tangy flavors to add a fun twist to the lunch favorite, chicken.
Taste – 4/5
If you want something sweet, definitely go for the honey-glazed Aloha chicken. It's great with the crispy and perfectly seasoned spam fries and French fries. The Boneless Shaka, accompanied with bacon-wrapped pineapples, is tender chicken reminiscent of inasal that's easy to slice through. The Loco Moco is classic deep fried chicken – it's juicy on the inside and is blanketed with the Hula Hut special gravy. It's topped with a well-cooked fried egg and crunchy chicken skin that complements the rest of the plate. Their Hawaiian fried rice contains bits of spam and bell pepper that add some flavor in it without overpowering the chicken.
Originality
The Hawaiian theme is something new to JSEC. While chicken is a common option on the menus of different JSEC stalls, the tropical flavors are a new and memorable twist. The side dishes are unusual partners to the viand, but are tasty and will be perfect for those who are feeling adventurous.
Value for money
Php 115 will get you the Hawaiian fried rice, chicken, side dish, and a drink. The servings on each plate are perfect for lunch so you won't have to worry about there not being enough. The taste is worth the price.
Fulfillment of expectations
The dishes are as good as they look. Despite using a common viand for their menu, the Hula Hut puts a fun twist on chicken and rice without compromising the taste.
Overall rating – 4.5/5
Pizzanini
By Luisa C. Jocson and Franco M. Luna
As implied by their portmanteau of a name, Pizzanini earned their spot in JSEC selling a heavenly union of two classic Italian favorites: the pizza and the panini. Pizza has long been thought of as the quintessential student meal, but throw a homemade panini into the mix, and you have yourself a delightful treat worth spending a few breaks on.
Taste – 4/5
Loaded with chunks of savory, perfectly salted beef and wrapped in a soft, warm bed of ciabatta bread, the Maximum Protein pizzanini is sure to delight any carnivore. Spiced to perfection, the dish boasts of an impeccable sauce-to-meat ratio, the different spices bouncing off of each other in a delightful yet well-calculated flavor tug-of-war. A lighter alternative, the Chicken BBQ marries the tang of barbecue sauce with the piquant pesto; the two sauces surprisingly mesh well with one another, in a way that can best be described as savory meets slightly acidic. However, the dish oozes with a little too much sauce with a scarcity of chicken. Although appetizing, this may not bode well for those afraid of a little sourness. Taste-wise, there's not a lot going wrong for Pizzanini, if any at all. The cheese does its job of bringing out the pizza-esque taste that leaves students salivating, with the assortment of other flavors bringing something new to the table.
Originality
While the practice of combining entirely different dishes may already seem overdone in itself, Pizzanini pulls it off in a way that just works, and its small size makes it easy to bring around—perfect for the student on-the-go.
Value for money
For the price of less than Php 100 per solo order, you get a full meal and a culinary experience unlike any other, especially with Pizzanini's proud usage of premium and high-quality products.
Fulfillment of expectations
A testament to the age-old warning against judging a book by its cover, their sandwich-esque hybrids, regardless of how monstrous they look in all their meaty goodness, are so damn good.
Overall impression – 4/5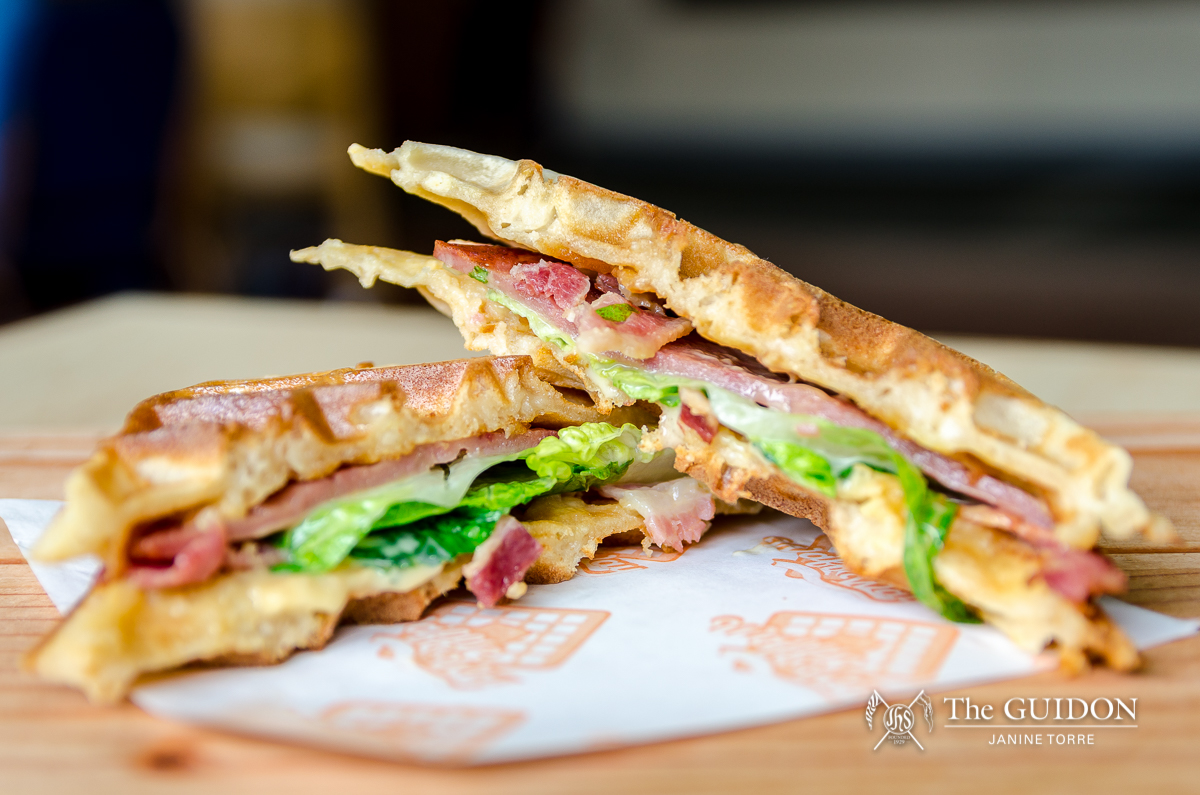 Waffle Way
By Carlito O. Mortel
If you've climbed the stairs to Matteo Up and smelled breakfast in the air, it's probably Waffle Way, cooking up another batch of their delicious waffles. Their golden browns pair so well with the sweet and savory fillings they have to offer.
Taste – 4/5
Their Breakfast Waffle is perfectly balanced, with the interplaying flavors of the sweet waffle and the salty bacon. The waffle was crisp outside and fluffy inside, and the crisp bite of the lettuce gave the sandwich texture contrast as well. Though a simple sandwich, the flavors and texture that run through it are delectable. The only letdown is the oily aftertaste it leaves.
Originality
The Breakfast Waffle is essentially an interpretation of the classic ham and cheese. The innovation lies in the addition of the bacon and the lettuce. The bacon adds a lasting saltiness, while the crisp lettuce adds freshness; the two make the sandwich flavorful and memorable.
Value for money
It's not the biggest sandwich but the flavor pulls through. However, this sandwich is not for those who are expecting a filling lunch, but rather, for those who want a delicious snack.
Fulfillment of expectations
It's amazing to see that switching the bread on a sandwich with waffles can make such a huge difference. The flavors and textures it adds to the regular sandwich give their stall an edge over your typical sandwich stall.
Overall rating – 4/5
Hibachi
By Carlito O. Mortel
Hibachi stands out because they're the only stall in JSEC that cooks their meals on a flat-top grill. They serve popular Japanese food items alongside their fried rice.
Taste – 2/5
The Gyu Yakiniku delivers the expected flavors from Japanese food, with the letdown being the cooking execution. Their rice seemed quite overcooked, due to it being fried on the flat top. The meat was tough and full of sinew, making it difficult to eat. However, their matcha cookie was a pleasant way to end the meal.
Originality
The food was regular fare for a Japanese stall. The flavors weren't particularly exciting. The only innovation is the flat top grill, which was unfortunately used ineffectively as the food is cooked unevenly.
Value for money
A big serving is to be expected when eating from this stall. The fact that the rice feels filling on its own makes this stall stand out value-wise.
Fulfillment of expectations
It's exciting to see your food being cooked in front of you, but as the food was somewhat subpar, the flare becomes useless. The Japanese flavors are delivered, albeit only barely. The usual complex flavors of a Japanese meal were simplified to just salty soy sauce and sweet meat.
Overall rating – 3/5
Da Vincheese
By Ching M. Balina
The sandwich is the student's power snack. They're prepared quickly, carried easily, and can give you enough energy to last you through one more class. Conveniently located outside the The New Rizal Library, Da Vincheese has prepared three unique sandwiches that are perfect for the student on-the-go.
Taste – 4/5
For those looking for something sweet, the Virgin is a grilled cheese sandwich with the addition of maple syrup. A bite of the sandwich will reveal the right amount of maple flavor without overpowering the cheese, though at times it may be served a bit soggy. The Madonna is filled with perfectly cooked chicken and fresh pesto; however, it doesn't have any strong flavors. The Leonardo, on the other hand, is a sandwich reminiscent of Mexican flavors: ground beef, lettuce, tomatoes, and the stall's own cheese mix. Note: Watch out for the spicy aftertaste! The downside is that there's a hefty amount of beef which might spill if you're not careful. The bread itself was just right, though it could have been crispier.
Originality
Maple syrup is an odd choice as a filling for a sandwich, but Da Vincheese makes it work. The flavors of the sandwiches were inspired by dishes that aren't typically sandwiches, but the stall did a great job of pulling these combinations off.
Value for money
The prices range from Php 75-110. You might think that Php 110 is a little too much for a sandwich, but the sandwiches are filling and worth the price.
Fulfillment of expectations
While there are things that can be worked on, it's still a promising stall with good options. Da Vincheese created a variety of exciting versions of grilled cheese that will gain them support from anyone. I'm not usually a fan of spicy food but the aftertaste of the Leonardo was still something I found enjoyable. The Virgin is a personal favorite, however, because of the perfect combination of maple syrup and grilled cheese.
Overall rating – 3.5/5
Oh, Crepe!
By Adrian M. Goh and Angela R. Natividad
One snack that can easily go from no-frills to frivolous is the crepe. Made up of a thin pancake and a choice of either sweet or savory filling, the crepe is as versatile as it is innovative. Oh, Crepe!, the stall tucked into the JSEC spot nearest Matteo, serves up their own ingenious takes.
Taste – 4/5
Initially, we noticed that Tuna Moon and Back lacked filling near the edges, but the flavors eventually began coming together—the salty tuna, the sweet mayonnaise, and the texture of the lettuce created a good balance of flavor. With Don't Go Bacon My Heart, the sogginess of the crepe and the amount of mayo overwhelmed us at first, but the mayo brought the dish together and the crepe didn't skimp on perfectly cooked bacon and crisp lettuce. Watch Me Banaenae was made of banana slices and nutella—a combination we loved, but we hardly noticed. Gimme S'more was a great ending to the quartet, a combo of chocolate, marshmallows, and graham; a bit too sweet, but overall, satisfactory.
Originality
While the sweet crepes were all too familiar to us, they didn't go wrong with their foolproof combinations. The savory crepes, on the other hand, were innovative daring mixes of lettuce, corn, bacon, and tuna. The crepes were unique and delicious overall.
Value for money
The crepes' prices range from Php 70-75 and are relatively cheap for on-the-go snacks as compared to usual JSEC prices. They offer some variety and are filling enough for when you're rushing between classes.
Fulfillment of expectations
Though the crepe is a flexible food item, Oh, Crepe! successfully produces a hard-hitting roster of flavors and combinations for a decent price.
Overall rating – 4/5
The Yorker
By Gabrielle M. Lombos
Claiming to bring both street and style to JSEC, The Yorker's mission is clear: bringing seemingly simple dishes to the plate (or, in the case of their wraps and burger, to the hand). The stall's aesthetic is clean, with the logo standing out against a black background.
Taste – 3/5
The Mediterranean Chicken was beautifully presented, with the green and red bell pepper slices bringing colors that popped against the off-white of the rice and chicken. Each component was cooked well; disappointingly, however, the strongest flavor in the dish was the hot sauce, with the rest of the components providing a mere contrast of texture. As for the side, the potato chips were crisp but lacked seasoning.
Originality
The Yorker's use of bell peppers added a welcome burst to each bite of their best-selling dish. While they offer rice meals, I suspect that the wrap version of the meal offered to us would have made more sense overall.
Value for money
Its meals are typical JSEC fare, with the price range similar to that offered at other stalls. You won't feel cheated, but there's no special effort to add to the sulit factor. Still, the meal we had was filling, which makes the dish good enough for a regular lunch.
Fulfillment of expectations
I wanted to enjoy The Yorker's dish. This made it so much more a letdown when I took my first bite. With stronger seasoning, the Mediterranean Chicken could have been great; instead, its flat taste was a big disappointment.
Overall rating – 3/5
Kuya Kimchi
By Gabrielle M. Lombos
Kuya Kimchi's very name implies its menu: Korean favorites appealing to the Filipino palate. Bulgogi, bibimbap, and japchae are recognizable to anyone who's been to a Korean restaurant. The question is, will Kuya Kimchi's food meet the standard?
Taste – 4/5
In a word, yes. We were given the Bibimbap (with egg), marbled potatoes, and Japchae. The Bibimbap had the rudimentary components, but the whole was definitely greater than the sum of its parts. The Japchae presented an interplay of sweet and savory. Tip: eat it while hot or the texture might get a little strange.
Originality
While the dishes were familiar, they are a welcome change from the usual JSEC fare. The marbled potatoes felt a little out of place, but on the whole its menu is evidence that even a little innovation can go a long way.
Value for money
The Bibimbap is the right portion for you to be on the 'happy-tummy' side of full. Additionally, you can get the Japchae as a main dish for only Php 80, and just like its Bon Chon equivalent, it's really filling and pretty sulit.
Fulfillment of expectations
Kuya Kimchi's servings are fairly generous, and overall, their dishes bring a welcome addition to JSEC. I was impressed by how they made basic dishes work well for them; I'm definitely going back for seconds!
Overall rating – 4/5
Seoulstice
By Ching M. Balina
Need to satisfy your Korean food craving? Luckily for you, you don't have to take a 4-hour flight to Seoul anymore, as these delicious dishes have made their way to JSEC. Seoulstice has you covered with their "soulful" dishes that are perfect for lunch.
Taste – 4/5
Seoulstice's first dish is their sweet and spicy chicken made with Korean chili paste. The sweetness in the dish is more noticeable than the spiciness, but the chicken itself is perfectly cooked with the right amount of tenderness on the inside and crunch on the outside. Their second entrée is a breaded porkchop, served with their own soy sauce mix that contrasts with the meat well. Of course, what would Korean food be without bulgogi? Seoulstice's version of bulgogi is savory and the sesame seeds add a nutty flavor and crunchy texture to the beef. Their side dishes—sweet and salty braised baby potatoes and sweet corn—enhance the flavors of the main dishes.
Originality
The viands aren't new to JSEC. These dishes don't have any surprising twists or unique flavors. However, pairing them with side dishes like potatoes and corn is a uncommon combination therefore customers will still get to try something new.
Value for money
For Php 90-120, you will have a filling rice dish of your choice. It's cheaper than most stalls, but worry not because the price does not compromise the quantity. One meal will definitely keep you full for a couple of hours.
Fulfillment of expectations
As someone who is not too familiar with Korean food, I was afraid I wouldn't like it because it isn't something I'm used to, but incorporating their dishes with familiar flavors has helped in making it a pleasant meal.
Overall rating: 4/5
Tetsuo
By Cedric B. Teng Ampo
Japanese restaurants have definitely remained trendy, especially those specializing in ramen and sushi. While these are indeed Japanese staples, there are other tantalizing dishes that the land of the rising sun is known for. This is what Tetsuo is looking to bring in to the crowded cafeteria of JSEC.
Taste – 4.5/5
Simply put, their chicken is amazing. Marinated overnight, the spices definitely squeeze through every fiber of the meat, be it the soy-based boneless Karaage or the buttermilk-based bone-in fried chicken. These are then fried with a batter that cooks to a crisp, despite being amazingly thin, while maintaining a juicy interior. Their corn is notable as well, with a sharp sweetness and rich umami taste from miso butter coalescing perfectly to form a tasty side dish. Unfortunately the rice on test day was overcooked and the gravy a bit too salty for my palette which gives it a 0.5 deduction.
Originality
Most Japanese restaurants in the metro offer Karaage as a side dish, but Tetsuo puts this menu item in the spotlight. It also gives an alternative to the usual Filipino and American-style fried chicken that can easily be purchased from fast food stalls. While the dish is not a new concept, the execution of the stall deserves high marks.
Value for money
For the amount of rice and viand you get from a single meal, as well as the quality of the food, value for money is definitely there. Outside the campus, the meals can easily charge even double of the current price and still have customers stream through its doors.
Fulfillment of expectations
Coming into the review, I did not expect anything special from the stall, especially as they sell a very common meal. Tetsuo definitely impressed me, as they somehow managed to give the humble fried chicken a whole new face as well as cooking the meat perfectly, retaining the juices without leaving a raw taste.
Overall rating – 4.5/5
Frite Street
By Carlito O. Mortel
Frite Street mainly serves thick-cut fries with toppings. But let's be real: nobody can hate a french fry, especially when doused with a variety of sauces and topped with meat. Frite Street's concept alone makes for a winning combination, with their food proving to be nothing but exceptional.
Taste – 4/5
The real star of their menu is the Crispy Sisig Frites. The sisig is chunky enough to be substantial beside the thick, crispy fries, which were perfectly golden brown and fluffy. The salty, chewy sisig itself is a triumph, but paired with fries and garlic mayo sauce, the whole dish was properly balanced. Their Buttermilk Fried Chicken Fries is another recommended choice. Cheese, fries, and gravy sound like a salty mess, but the three were seasoned just right.
Originality
Many stalls in JSEC sell fries, but Frite Street makes them their main focus. They fries are crisp on the outside and fluffy on the inside. When paired up with different toppings, the fries are able to perfectly complement their tandem. The result is a sinfully delicious stall worth your attention.
Value for money
For someone looking for a meal to fill him or her up, this stall may not be the one for you. Frite Street is better suited for someone who's looking for a substantial snack to get them through the day. It might be hard to justify fries for Php 90, but it's worth the splurge.
Fulfillment of expectations
Frite Street serves more than just your average french fry. They demand to be just as much of a part of the meal as anything you've eaten. Though often regarded as "just sides," these dishes from Frite Street steal the spotlight.
Overall rating – 4.5/5
Editors' Note: Katrina G. Pimentel is the Associate Editor of The GUIDON and is a part-owner of The Bread Poets Society. Gio Goseco is a Vantage staffer and is a part-owner of Between the Buns. Jairus I. Paul is an Inquiry staffer and is a part-owner of Between the Buns. John Oranga is a Photos staffer and is a part-owner of Frite Street. None of the aforementioned were directly involved in the reviewing process.
With reports from Inquiry, Sports, and Features.