Sodalicious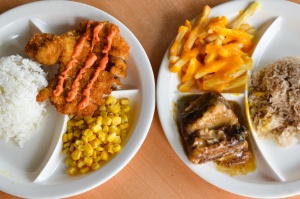 As the name suggests, this stall is committed to serving delicious, cola-marinated rice meals. Yellow-striped and polka-dotted, the stall calls attention to a vinyl sticker of a 70s woman holding up a soda bottle and sporting Marilyn Monroe's famous hairdo, pouty red lips, and a great smile. The staff doesn't fail to reflect this very same personality.
The stall immediately gives you a nostalgic vibe. The Cola Chicken Chops (Php 95), although quite dry, was elevated by the sweetness of the cola, providing a fine twist to the well-loved chicken chops. The Root Beer BBQ Ribs is commendable for the glaze, although the meat might have been a bit bland and dry without the sauce. From the sides that were given, the cheesy fries, although tasty, were a bit mushy.
All meals are available with sides of cheesy fries or buttered corn for a reasonable additional increase of Php30. For an additional Php 5, you can swap your white rice for Sodalicious's specialty cola rice. Though one would expect a more pronounced flavor from the cola, the rice did not deliver the unique taste that was expected of it.
Sodalicious, of course, would not be complete without the soda. The stall offers a passable root beer float, serving Mug Root Beer with a floating scoop of vanilla ice cream—a classic without need of improvement. If you'd like a revitalizing thirst-quencher, go for the Cucumonade, classic lemonade blended with slices of cucumber.
For its unique concept, exceptional stall design, and that its dishes have different twists of their own. – 3/5
Chopping Board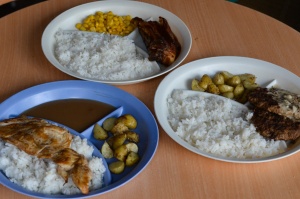 So what can we find on the chopping board? Though the name given to the stall may be quite vague, a look at their menu gives a clue as to what may be simmering in their pots and pans: Authentic American meat straight from the grill.
The stall's front counter flaunts a wooden cladding embellished with the silhouette of a butcher's knife: A life-sized chopping board. Behind the sign was an equally attractive staff, who were courteous and friendly all around.
The Grilled Chicken (Php 85) is certainly not one for aesthetics. What it lacked in design, however, was made up for in flavor. The chicken—initially a tad too salty—goes remarkably well with its gravy, ending sweetly on the tongue.
Their burger steak (Php 85) was a bit mushy—a result of using too many breadcrumbs. However, the gravy saved the dish, adding a burst flavor to an otherwise bland meal.
The timeless baby-back ribs served were exceptional. Thesavory barbecue sauce did a lot to bring out the flavor of the pig. Though the meat (which is usually spiced and marinated overnight) lacked a bit of seasoning, the tenderness and flavor really made it taste quite authentic. Priced at Php 100, the Ribs are worth a long trek from Leong Hall to JSEC.
For the approachable staff, exceptional sauces, and the rich texture of their meat. – 3.5/5
Little Emperor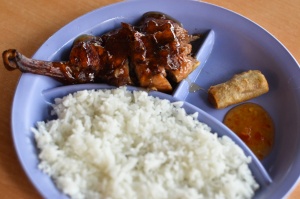 At first glance, Little Emperor expertly captures the essence of street side Chinatown: The entire concept is fleshed out in everything from the menu, the dish selection, and the stall's overall look and feel. To your right, you'll find a glass case complete with yellow overhead lighting, where fully-cooked roast ducks are hung from steel hooks. It's a nice touch that greatly contributes to the overall authenticity of the stall.
Little Emperor's self-proclaimed "main attraction," the Roast Duck (Php 135), is certainly a staple dish. The tender meat, marinated in various spices, provides the perfect contrast to the crisp skin, which is generously coated in tangy plum sauce. Its price point may be a little steeper than most JSEC dishes, but for an above-average Chinese roast duck, you'll be happy to shell out your lunch money.
Their bestseller, the Roast Pork Belly (Php 95), is worth mentioning for its crisp chicharon-like skin, although the belly itself had just a tad more fat than meat. The pork is topped off with hoisin sauce, a salty-garlicky sauce that can come off too strong for some.
All meals can be upgraded to add a drink (your choice of iced tea or bottled water) and a side dish (wonton chips, siomai, or shanghai rolls) for an additional Php 25.
The staff was warm and accommodating, making sure to apologize every once in a while as we waited for our dishes—customers were constantly keeping them busy, which is a testament to the quality of their food. Overall, the Little Emperor is a solid addition to the JSEC roster.
For its well-executed concept, authentic Chinese roast duck, and friendly staff – 4.5/5
Ibaya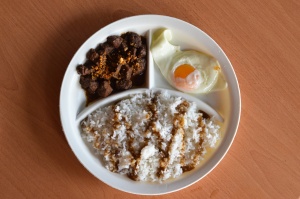 Another Filipino food stall, Ibaya grandly stands at the entrance of the drop-off area to JSEC. Inspired by Breakfast at Antonio's in Tagaytay, its minimalist design is echoed in its stall and dishes. What sets it apart is its "have it your way" food concept: You can have the rice meals either plated or in a wrap. When it comes to perfecting the classiness of Filipino food without sacrificing affordability, Ibaya does not disappoint.
For starters, their Beef Salpicao was swoon-worthy. The marinade not only gave a great depth of flavor but made the meat tender as well. The only thing keeping this dish from perfection is that it is a bit too salty and the viand-to-rice ratio could be improved upon.
Surrounded by hype and rumors of its mind-blowing flavor is Ibaya's Sisig. Served in a wrap and grilled, it appears flat upon first glance; making one wonder whether it would be filling at all. All doubts are cast aside after the first bite, however, and the only thing you'll be thinking about is how soon you can order another one after you've finished demolishing this one.
The Sisig itself is crunchy but not dry—marinated to perfection with just the right amount of sweet, salty, and spicy, with the chopped onions and tomatoes dancing in perfect gastronomical harmony. Filled with rice just like a burrito, Ibaya's Sisig is convenient to eat and not messy at all. Worth the price and a must-try!
For exceptional flavors, and the best sisig in JSEC. – 4/5
Katsunami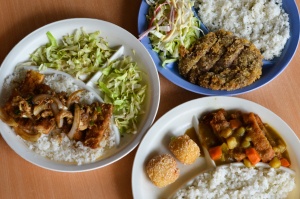 Lining up at Katsunami's makes one feel swells (pun intended) of anticipation. By far the most artfully crafted stall in JSEC with its slats of wooden covering that mimic the undulations of the sea, its menu pictures are scintillating and "hanger"-inducing at best; featuring the various tonkatsu favorites, such as katsudon, katsu curry, and menchi katsu. While stall owners admit to not knowing why they named their stall as such ("It just sounded good" quips a stall owner), Katsunami is definitely making waves with its full plates of Japanese-inspired dishes that guarantee you to drown in deliciousness.
For half the price of a fancy restaurant's, try theirKatsunamidon combo meal (Php 110), that instantly satisfies any cravings for katsudon. A comfort forkatsudon lovers everywhere who are just looking for that right balance between the perfect crunch of the breading and moist slick of the egg against your teeth. The sauce is sweet, salty, and sinks into the rice below for a perfect bite with every spoonful. The kani salad really shines through as only a touch of Japanese mayonnaise is added.
Moving onto the Katsunami Curry, it looks like less viandand more potatoes and sauce due to the curry. The curry itself is nicely spiced with just the right amount of cumin to perfume it and give it a slight kick. For all intents and purposes, it tastes exactly like any Japanese curry you've had elsewhere. The Kani Croquettes served on the side were an interesting twist on the regular potato, but the flavor of the kani was a bit lost in translation.
The Menchi Katsu was the least exciting. It was a bit too oily and quite confusing. Substituting the cutlet for ground pork, took away from what people love most about katsudon—the firm yet juicy bite. Its generous size made up for its taste, and the side of Kewpie salad is perfect for those salad eaters who love drenching their cabbage in roasted sesame dressing.
For beautiful execution on stall-design, plating, and achieving authentic Japanese flavor while still being affordable. – 4/5
Everything Bacon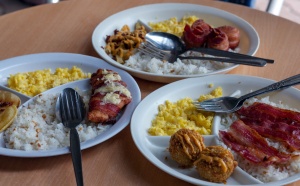 Everything Bacon is essentially what it says on the sign: Everything on their menu except the iced tea is peppered with bacon. The main courses consist of crossovers between bacon and other morning favorites like chicken and sausages; unlike most crossovers, the results work.
The bacon sausages (Php 90), in particular, have a unique kick that goes excellently with the garlic rice served with all of the stall's offerings; meanwhile, the bacon chicken (Php 95) is filling, if rather pedestrian. If these combinations make you nervous, the store also offers a good old-fashioned bacon strip meal (Php 85), (which can be requested to the doneness of your liking) that's wholly satisfying on its own.
The bacon theme extends to their side dishes as well. Aside from the scrambled eggs that come with every meal, the stall offers a choice of bacon pancakes, bacon wedges, and their specialty bacon bombs. The bacon pancakes, which are pancakes sprinkled with bacon bits and topped off with syrup, are an amalgam of flavors that somehow work. The bacon wedges, on the other hand, are your everyday wedges sprinkled with bacon bits. The bacon bombs, meanwhile, are potato balls filled with bacon and cheese; it tastes exactly as great as it sounds. Top all of that off with quality iced tea and decent service, and you've got a good eating experience right there.
It's difficult to improve on something as beloved as bacon, but this stall shows that getting creative with it doesn't hurt. While Everything Bacon probably works best as a breakfast option, bacon aficionados will be in for a treat, no matter what time of day it is.
For a winning concept that's thoroughly and solidly executed. – 4/5
Subarashii Ramen
It was only a matter of time before the ramen movement permeated JSEC, and as the first of its kind, Subarashii Ramen isn't doing too shabbily. They currently offer two different noodle meals–their standard ramen broth Mirakuru (Php 110) and their spicier alternative Dainamaito. Both suffer from slightly overcooked noodles, but both make up for it with satisfyingly flavorful soups. The Dainamaito (Php 120) has a slight edge on this front, with its spice providing an additional kick, but both are solid choices for people looking for a noodle fix.
They also offer additional gyoza in their combo meals. While the gyoza is quite underwhelming on its own, they're quite good when mixed with the rest of the meal. The service is cordial and prompt; you're even allowed to eat at the stall itself, ramen-bar style. All in all, it's a decent, if slightly average, mealtime experience.
In Japanese, subarashii translates roughly to "excellent" or "majestic". While it wouldn't get that amount of praise, it isn't a half-bad meal. Order it on cold days, for a quick jolt of warmth to the stomach.
For offering a unique, if slightly underwhelming, eating experience. – 3.5/5
The Drinkredibles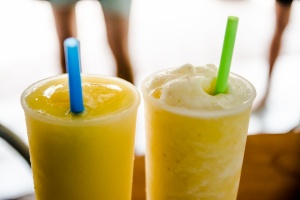 Putting superheroes together is already hazardous; what more if the superheroes were a family? The same is true for fruit flavors—turn them into a family and things are bound to go wrong. But taking a cue from its Pixar namesake, The Drinkredibles embraces the challenge of giving us a jam-packed super family of shakes. It offers three variants of shakes–the Super Solo with a standalone fruit selection, the Daring Duo with two, and the Terrific Trio with three–from eight different fruit selections.
They start off with something familiar–a classic mango-banana Daring Duo for Php 65. The two tropical fruits are blended almost perfectly to create a refreshing, cool flavor with just the right amount of sweetness. They would have nailed it if not for the banana slightly overpowering the mango. Clearly evident in the shake is the signature succulence of Philippine mangoes. Overall, the shake successfully sells itself as a familiar, classic go-to refreshment.
Their next concoction was rather new–a Terrific Trio of pineapple, apple, and orange. When you first hear it, the three flavors don't seem to jive together. But after the first sip, you realize that this unique mix actually works. The result is a refreshing tropical burst, with the three fruits blended harmoniously together. The pineapple, apple, and orange components are perfectly balanced, with no fruit overwhelming the drink. This is the kind of shake you'd sip endlessly on a scorching hot day.
For fresh fruits, refreshing concoctions, and super flavors. – 4/5
With reports by the Features and the News staffs.