Troy Story (Matteo 2nd Floor)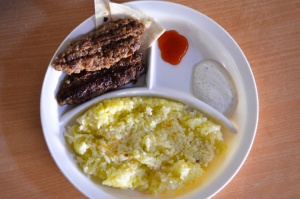 When one thinks of Troy, thoughts of love, war, and deception come to mind. The city itself and the battle that took place within its walls are a testament to the intricacies of Greek mythology, and its colorful narratives of life. Troy Story attempts to capture the same allure of the Mediterranean with their bold flavors worthy of both gods and men.
Mediterranean is a delicious, if risky, cuisine to serve, due to the more expensive ingredients its dishes entail. Troy Story offers kebabs, gyros, and a salad, all of which need good quality beef and spices to hit the exact amount of savory vibrance that won't fall flat.
Their Beef Adana (Php 100) comes with two sticks of beef kebab, a cup of buttered rice, and a side of pita bread. Pricey for those who are looking for the "worth it" factor, as much of what you will be eating will be rice after the kebabs are long gone. The kebab is like any other you've tasted in other Mediterranean joints except that it is beef instead of the traditional lamb. What is noteworthy is the tzatziki (a garlicky, Greek yoghurt-based sauce) that makes this dish nothing short of victorious—refreshing, and a delight to eat.
The buttered rice is moister than the usual, fluffy white rice one is used to. But is a good accompaniment to the sharp garlic tones of the sauce. The side of pita bread is a pitiful defeat in this dish—it's oily, dry, and thin. On the upside, the stall owner confided that Troy Story will be exchanging their sides soon with something more filling.
All in all, a commendable battle for authenticity and an award-worthy tzatziki. – 3/5
The Daily Grind (Rizal Library)
If you're the kind of person who needs a daily coffee fix to get through the day, then The Daily Grind has answered your prayers. Affordable and perfect for your morning caffeine and lunch needs, The Daily Grind serves a great array of sandwiches and coffee.
First is their bestseller sandwich: Spicy Tuna. The bread was soft but not limp, and the spread was proportioned properly with the bread. The tuna itself was flavorful and complemented the bread nicely. However, the generous onions overpowered the spread of the tuna.
Next was their Banana Hazelnut sandwich. The combination of the bread, banana slices and hazelnut spread is a winner. The bread balances off the sweetness from the banana slices and the hazelnut spread that makes the sandwich tasty but not too sweet.
Their Three Cheese sandwich was a good sandwich that could be improved with greater amounts of cheese.
To balance out your meal, order one of their coffee drinks with your sandwich. Their Mocha drink, espresso with chocolate syrup and full cream milk served with ice, was delicious. The coffee didn't come out too bitter and the chocolate made it pleasantly sweeter. Their latte, served hot, is also commendable. The coffee beans used were flavorful and wereas mixed with the right amount of milk.
Overall, well-prepared, tasteful, and affordable sandwiches and coffee drinks. – 4/5
Kain Kanin Kahon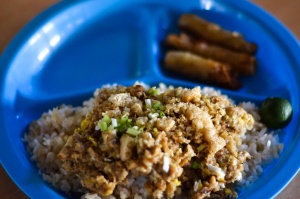 Invoking the spirit of Andres Bonifacio's Katipunan on their stall logo, Kain Kanin Kahon (KKK) is a force to be reckoned with when it comes to serving Filipino food with a punch. Choosing to run a Filipino stall amidst competition in the same cuisine is no easy feat when you are all fighting with the same dishes, but according to KKK's marketing director, Gabrielle Lopez, its secret weapon is the innovation behind its theme: Selling favorite, Filipino rice meals that can be carried in convenient take-out boxes.
Piled high on the plate, their pork Sisig makes you wonder if your stomach is ready for battle. At Php 120 with a choice side of egg, lumpiang shanghai, or green mangoes and bagoong, this is one of the few meals in JSEC that are worth the bang for your buck. The Sisig is saucy and not too salty, but the kalamansi overpower the dish. It is also very rich, making it hard to finish after a few bites. Points to the lumpiang shanghai, for being a filling, crispy, and crunchy side dish that should be a main.
Up next is KKK's bestseller, Bacsilog. Approximately three to four strips of succulent bacon sit atop the rice with melted cheese pooling in their crevices. The bacon is the right balance between crispy and chewy but the sauce was unidentifiable. Due to the added cream, it resembles mayo and doesn't taste much like cheese; being a misplaced add-on on bacon that is already delicious on its own. Though it is dubbed as the best seller, it was an overall underwhelming dish. Customers seeking comfort breakfast-type food will enjoy this, though.
Lastly, the slightly fatty pork Adobo finishes with a tasty marinade that's nicely seasoned. The green mangoes on the side are too tough to spear, so when choosing a side it's best to go with an egg or lumpia.
For Filipino comfort food that satisfies the taste and fullness factor. – 4/5
Wrappies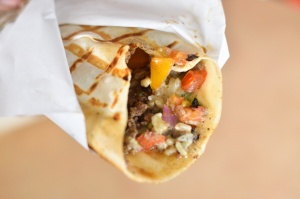 It's quite difficult to top the ingenuity and creativity that former JSEC stall Sawrap perfected with their Pekeng duck. It was the perfect on-the-go meal, tasty, layered and rightfully balanced, and it really tasted like duck. Trying to outdo and outwit something as perfectly engineered as that would be quite chancy. It's a good thing Wrappies did something entirely different.
Starting with their Japanese wrap (Php 95), made with crispy chicken teriyaki, brown rice, and mixed vegetables, the wrap was sound and supple. The chicken was tender and moist, and the sauce lapped every corner of the tortilla wrap. Though it was a tad too sweet and the layering of flavor was a bit one-sided, the wrap was well-constructed and the chicken gratifying—a solid choice.
Then you get their Mexican wrap (Php 95). Clearly the better wrap, what lacked in the Japanese wrap was boldly featured in this bundle of tortilla. The flavors were brilliantly layered and balanced to create a completely authentic Mexican flavor. The spices of the beef were exquisitely pronounced without being overpowering, while the fresh salsa brought that kick that really offset the richness of the rice and beef. Executing something as exciting and universally loved as Mexican cuisine is easy, but executing it to this degree of expertise, brilliant.
Wrappies is not ingenious—far from it. They are not trying to be witty (just look at the menu), they're not skirting with puns, they're giving it to you plain and simple—they're letting the food speak for itself. Sometimes that's all it takes to become a classic.
For really well-executed wraps, and simple and perfectly honed flavors. – 4.5/5
Sauce Project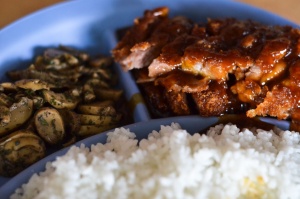 Sauce Project introduces a three-step process to building your meal: Choosing your meal type (a solo option costs Php 100, while a combo—that is with a side and drink—sets you back Php 120), your meat, and your sauce.
Of the two dishes we tried, the first was a very dry, grilled chicken topped with mushroom cream–a standard sauce executed poorly, somehow both burned and bland. This, along with the herbed mushroom side (which was much too sandy in texture to appreciate) that came with it, indicates they don't do mushrooms very well. In sharp contrast was the second dish, breaded pork chop doused in honey soy. This one was surprisingly delicious—sweet and smoky, with a satisfying crunch. Oddly enough, the honey soy that glazed the meat tasted very much like hoisin sauce, giving one the impression of eating a deconstructed siopao (it wouldn't be a bad idea to start offering a version of the dish in a steamed bun). If not for the fattiness of the pork chop, this would be a regular meal for anyone.
The concept is fantastic for a food stall and, with a little more tweaking, could be a real contender in the student enterprise center. – 3/5
Breaking Eggs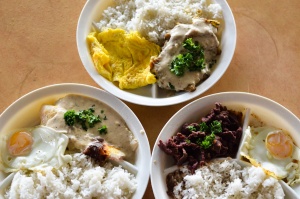 Breaking Eggs holds as its mission "serving heavenly inspired egg dishes." This kind of pronouncement hints at menu offerings like Scotch Eggs or Spanish tortilla, but the actual eggs in Breaking Eggs are sides, taking the backseat to beef, chicken, and pork viands with rice. The food is in no way innovative, but with the standard fare they serve, they do well.
We had the opportunity to sample their flagship dishes, and the standout was the "Herbed Creamy Dory." It had all the melt-in-your-mouth softness the fish is known for, while packing enough flavor to be memorable. The other dish we were able to sample was the Beef Tapa, which—to be perfectly frank—was more beef jerky than anything else. A bit too tough to enjoy thoroughly, it at least came well-seasoned and well-proportioned with the accompanying cup of rice. That said, it isn't uncommon for food stalls to develop their recipes and introduce new dishes as the year progresses. Here's to hoping Breaking Eggs does exactly that.
The food is uninspired, but passable. With a concept as simple and versatile as theirs, there is still much room for improvement. – 3/5
Note: Prices not listed as they are reportedly subject to change in the near future.
Minute to Wing It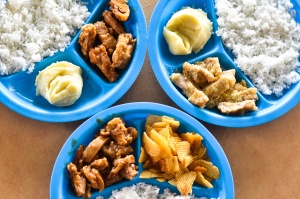 Chicken is one the most universally loved proteins. Versatile and pliant to flavor, the bird can be prepared in so many ways and in so many flavors. Minute to Wing it promises an American dream in the form of the beloved bird, but what one gets can hardly be described as a dream.
All their chicken was served the same way—battered and fried. It was their sauce and seasoning that varied, namely the Hickory Barbeque, Honey Glazed, and Garlic Parmesan. The conception of their stall slowly seemed like they really took a minute to wing it.
Starting with their hickory barbeque (Php 100), the chicken was moist and tender, but the sauce paled in potential. Though the spices shined nicely, there was a grave mistake in balancing the flavors. Too overpowered by the vinegar, the sauce had an almost acrid flavor, greatly taking away from the spicing of the sauce. With so much potential brimming in the dish, a deft touch and a reassessment of the recipe would do it well.
Their Honey glaze (Php 100), on the other hand, although similar in flavor profile, differed greatly in overall harmony. With sweetness of the honey blending nicely with the light and juicy meat, it sung pleasantly on the tongue. Simple, expertly executed, and flavorful all round, the honey glaze is hands down the better of the two.
Last was the Garlic Parmesan (Php 100)—an easy crowd pleaser—which, again, could have been great, lest some minor oversights. The flavor of the cheese came through, but that was it. The garlic was barely present in the dish, which could have given it a deeper, more unctuous flavor. Another swing and miss.
The dishes could have been great, solid, reliable, only let down by slight missteps in the recipe production. Gladly, the stall is here for a year. Here's to hoping that the recipes evolve, and they can make good on their promise of an American dream.
For a duo of could-be-fantastic dishes and one that really was. – 3/5
With reports from the News staff.