PASTA PLEASE
With its (hash)tagline #BePleased, Pasta Please has made it clear that customer satisfaction is their top priority. Pasta Please has four sauces that you can match with three kinds of noodles, according to your preferences. Albeit slightly overboard with the garnish, their already hefty servings of pasta are made even more sumptuous by a generous amount of Parmesan topping each plate.
Their bestseller, Chicken Pesto (Php80 solo), is creamy with just the right amount of basil and soft, savory chicken slices. However, the excessive serving of parsley was more than a little distracting to the palate.
We took our order with penne noodles, but one can also opt for spaghetti or macaroni. As for the sauce, one can choose from chicken pesto, tuna salsa rosa, stroganoff and mac and cheese.
The stall also has chicken sides (Php25), as well as tiramisu cake (Php40) in case one is in the mood for dessert. They don't scrimp on the ingredients needed to produce quality pasta, and they have made it clear that they're here to please.
Rating: 4.5/5
[columns][two-columns]Pros:
Mix-and-match sauce and noodles
A+ chicken pesto
Large pasta servings
Generous with cheese[/two-columns][two-columns]Cons:
Too much garnish[/two-columns][/columns]
---
THE BREADWINNER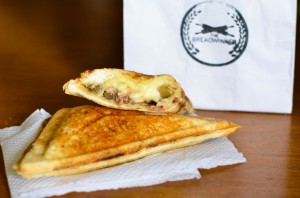 As one of JSEC's many on-the-go stalls, The Breadwinner sets itself apart by sealing the filling right into the bread with their sandwich toasters. Ateneans looking for a portable snack will also appreciate that these two diagonally-cut sandwiches come in a paper bag.
Their menu offers a reasonable numb
er of sweet and savory fillings, from Nutella Cheesecake (P60) to Roast Toast (P75), with the latter being their bestseller.
Taking a bite out of their Roast Toast, we were pleasantly surprised to find that the mozzarella-gravy-roast beef filling was still warm even after half an hour. The bread was thin and compressed—an understandable result of the toasting process. The roast beef and mushroom gravy flavor, however, were barely discernible amidst the copious amounts of mozzarella cheese.
The Breadwinner also has a number of sides, as well as ice cream (P15) as a dessert option. The stall itself is aesthetically pleasing, with dainty chalkboard lettering and an easily recognizable logo. It's still early on in the year but this stall is already showing promise in dominating at handheld JSEC fare. Their portions do need refining, but these guys are clearly winners at portability and branding.
Rating: 3.5/5
[columns][two-columns]Pros:
Portable
Environment-friendly packaging
Filling is kept hot even after several minutes
Pretty branding, nice stall, easy-to-recognize logo on their paper bags[/two-columns][two-columns]Cons:
Couldn't taste much of the meats in all the cheese[/two-columns][/columns]
---
PIZZAROLLIO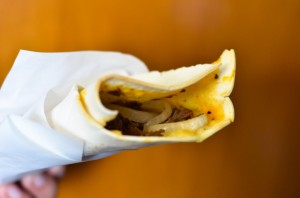 Matteo Ricci Study Hall's second floor is home to yet another interesting pizza stall this coming school year. Pizzarollio's concept is exactly what it sounds: They serve pizza rolls, which are essentially wraps made with pizza ingredients. Despite the Italian flag being in its logo, their menu items hail from around the world, from Mushroom Teriyaki to Philly Cheesesteak (Both items are P75 medium, P85 large).
Their bestseller, the Philly Cheesesteak, was confusing; it tasted more like a burrito than actual Borough fare. Perhaps there was a little too much cumin and alfalfa, and just not enough meat. The tortilla was also a bit dry, and one had to get to the center of the pizza roll to actually taste the cheese steak.
The middle of the roll is worth the wait though, with its generous amounts of cheese and tender beef. The roll's packaging is portable, albeit a little loose, which can lead to disaster for the accident-prone. The stall also offers add-on drinks to go with your roll, such as iced coffee (P25) and Milo slush (P25).
In spite of the identity confusion, the Philly Cheesesteak is a delicious burrito. Pizzarollio's portions are generous, and their rolls are ideal for students who want their pizza fix on-the-go.
Rating: 3/5
[columns][two-columns]Pros:
Portable
Convenient for Matteo regulars[/two-columns][two-columns]Cons:
Dry tortilla
Philly Cheesesteak is actually a burrito[/two-columns][/columns]
---
SISA
Many JSEC customers have been going crazy over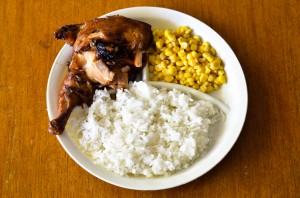 Sisa, from the bahay-kubo façade, to its unapologetic take on the names of their dishes (named after characters from Jose Rizal's two iconic novels). With this year's JSEC crop saturated with all the foreign dishes you can think of, Sisa is the go-to place for some genuine local cuisine. Their Ibarra (adobo) and Elias (binagoongan) are classics straight out of a traditional cookbook, while their Doña Victorina, one of their bestsellers, is some of the best Bicol express you'll find outside, well, Bicol.
If you feel like some JSEC stalls are not giving you enough bang for your buck, then check out Sisa's other bestseller, Kapitan Tiyago, a very generous serving of chicken barbecue that is sure to satisfy.  For P80, you can order any of the four entrées solo, or you can pay an additional P25 to make it a combo meal with any one of their side dishes: Corn, green mango, salted egg or buko pandan.
Sisa makes quite the effort to do the literary counterparts of its meals justice. Jose Rizal would be very proud.
Rating: 3.5/5
[columns][two-columns]Pros:
Generous servings
Local cuisine done right
Cheaper than most other offerings[/two-columns][two-columns]Cons:
Nothing new[/two-columns][/columns]
---
CUSINA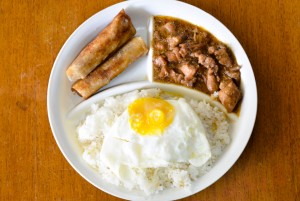 While you're waiting for your order from Cusina, you might notice the sentence, "The kitchen is the heart of the home" painted on the stall's many signboards. The concept is simple: Local familiarity with a classy twist. While the name Cusina is ultimately forgettable in a sea of puntastic JSEC stall names, this one appears to be one of the most effortlessly working concepts in terms of the stall's layout and its dishes.
Just as seemingly effortless are their Chicken Salpicao (P85), Beef Tapa (P90) and the crowd-favorite Sisig Adobo (P85). Whichever piques your interest, Cusina can serve it with its promise of simplicity done right. Their garlic rice also adds to the homey feeling of their dishes, along with other sides like the herbed potatoes and buko pandan. But if all these still make Cusina seem too generic for your taste, you should definitely give their Cinnamon Turon a try.
While Cusina's effort for originality can be applauded, the familiarity of the dishes is their defining quality. Whether that's a deal-breaker or not is really up for you to decide.
Rating: 3/5
[columns][two-columns]Pros:
Great garlic rice and every meal comes with an egg
Varied lineup of side dishes[/two-columns][two-columns]Cons:
Meals can be a bit too oily[/two-columns][/columns]
---
B.Y.O.B.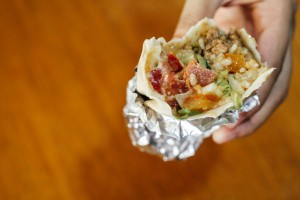 If you're one of the many who have been complaining about the absence of Taco Bell in the Katipunan area, then B.Y.O.B. (Build Your Own Burrito) is a Mexican godsend. But don't go comparing B.Y.O.B. to the generic fast food giant just yet; for this JSEC stall, customization is the name of the game.
Aside from the choice between beef and chicken, there is a total of nine toppings to mix and match in your burrito: Lettuce, salsa, cheese, jalapeño, bacon bits, baked beans, taco rice, egg and cheese. The number of toppings you get to choose depends on the size you order: Three for poco size (P75), four for medio (P85) and five for grande (P95). It's always a risk choosing your own ingredients, but when you find the right combination, the end-product can make you forget that Taco Bell even exists.
After finishing off your battle with that grande burrito, you can move on to their very unusual dessert: The Nutella Burrito (P85). Composed of all the ingredients you could never imagine in a savory burrito (Nutella, crushed cookies, marshmallows and banana), this B.Y.O.B. original is quite the surprising treat.
Thanks to B.Y.O.B., you might as well say "¡adios!" to your daily rice meals in JSEC. Burritos are your new lunch buddy.
Rating: 4/5
[columns][two-columns]Pros:
Incredibly customizable meals
Heavy treat if you order grande[/two-columns][two-columns]Cons:
Hard to eat without getting messy[/two-columns][/columns]
---
LITTLE ITALY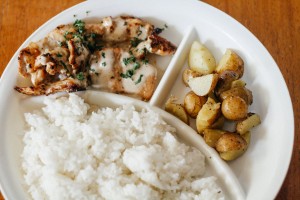 Little Italy is driven by the belief that the quickest way to get to know another country is through their food. Their goal is to get Ateneans acquainted with Lo Stivale by serving them authentic Italian cuisine.
Risotto is a popular Italian dish and the sta
ll offers three variations of it: Cheese, Chicken Mushroom and Tomato Basil. These dishes are creamy broth rice meals laced with onions and sprinkled with herbs. They are meant to be eaten and enjoyed as soon as they are served because the cream tends to dry after twenty minutes or so.
More popular than its risottos are the regular rice meals, especially the Garlic Chicken Parmesan. It's comprised of chicken strips topped with a few herbs and white garlic sauce, and accompanied by diced marble potatoes.  The chicken is tender and absorbs a little of the white garlic sauce, which, in turn, complements the juiciness of the chicken.
This otherwise awesome food tour through Italy gets stale quick, so be sure to secure a seat near the stall before you order.
Rating: 3.5/5
[columns][two-columns]Pros:
Very affordable
Juicy chicken and potato slices.[/two-columns][two-columns]Cons:
Dries up quickly[/two-columns][/columns]
---
HUNGER BUSTER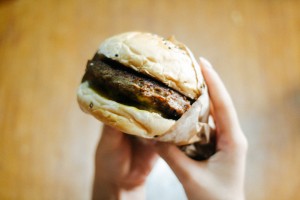 Not a fan of lines? Are all the seats taken? On your way to class but haven't eaten anything yet? If you answered yes to all three of these questions, then Hunger Buster is the JSEC stall for you.
While the majority of JSEC stalls sell rice meals, Hunger Buster sells the perfect on-the-go meal: A burger.
The employees of this stall are aware of the demand for their burgers and are very efficient with their service. They guarantee that as soon as a customer places an order, he or she will be served in a minute.
Though not as large as the burgers being sold at prominent establishments along Katipunan Avenue like Wham! or Brother's Burger, the burgers from this stall can be just as satisfying. The buns are soft and the patties are thick and juicy. Chewing them isn't difficult and the juice explodes after every bite so the mouthfeel is just heavenly.
Hunger Buster burgers have peculiar names, such as the disturbingly named Bomb Threat which has been the subject of speculation among many customers, all of them asking the question: "Bakit ganyan ang pangalan ng burger na 'yan?!"
The stall's most popular burger is the depressingly named Dying Burger, which contains cheese, mushrooms and tender bacon bits. It's like eating a miniature version of Wendy's famous Baconator but without the regret: Small, but enough to leave a customer satisfied and not bloated. The best part about eating this burger is that the cheese melts in your mouth and combines with the patty's juice as you chew it, coating and making the bacon bits more delectable than they already are.
Rating: 4.5/5
[columns][two-columns]Pros:
Small, cheap but satisfying[/two-columns][two-columns]Cons:
Who the hell thought "Dying" was an appetizing name?[/two-columns][/columns]
---
PEPPERAZZI
JSEC stalls are notable for selling food with puns for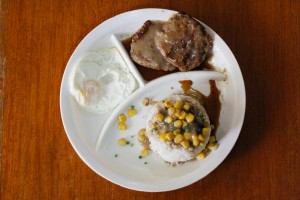 names. Some of them are interesting, some of them are forced and deplorable, but the food speaks for itself.
Pepperazzi is a Hollywood-themed stall that monikers their meals by making puns out of the names of big Hollywood superstars. These meals are served on a sizzling plate with peppered rice, covered in corn and a small slice of butter. Customers are given a choice of three sauces: Soy garlic sauce, spicy curry sauce or gravy (you can even choose to have a mixture of two).
The Shia LeBeef meal is the most popular dish from this stall, often running out of stock. Here, thin beef strips and white rice covered in pepper, corn and butter are drenched in the customer's chosen sauce. We had ours with a mixture of soy garlic and spicy curry.
If the Shia LeBeef isn't available—which is likely—you can choose to go with its chicken counterpart, Chicktina Aguilera. Despite its unattractive name, the meal is a wonderful treat: The chicken is fried to golden-brown and the slices are luscious.
Another one of the stall's popular meals is Robert Pattyson, a double beef patty meal covered in the customer's choice of sauce. Gravy is highly recommended, but it is best when mixed in with soy garlic. You can opt for the combo and add an egg and iced tea to the meal.
Rating: 4/5
[columns][two-columns]Pros:
Cheaper version of Sizzling Pepper Steak, but still of quality
All meals are great[/two-columns][two-columns]Cons:
Bestsellers frequently run out of stock[/two-columns][/columns]
---
PLANET SAUCE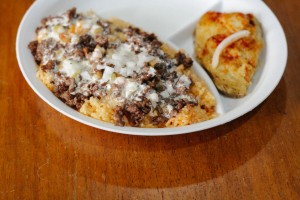 As the name suggests, Planet Sauce offers space-themed dishes featuring three distinct sauces: Garlic sauce, curry and chili con carne.
Their most popular meal is the Space Shawarma Rice, a big serving of java rice mixed with beef and tomatoes, all covered in savory garlic sauce—a Middle Eastern treat.
Portioning is a little off, however, as most meals have too little viand to go with all the rice they pack on your plate.
According to the stall's cutesy backstory, these dishes are a result of their mascot Marty Martian's travels around the universe in search for special sauces to keep his home planet from drying up. With their meals entirely drenched in these sauces, each round plate is a literal planet of garlic, curry or chili con carne.
This is the closest you'll ever get to being an eater of worlds like Galactus, so you might as well take it.
Rating: 2.5/5
[columns][two-columns]Pros:
The sauces are heavenly[/two-columns][two-columns]Cons:
For heavy eaters, these meals will not satisfy you
Too much rice, too little meat[/two-columns][/columns]
---
CHANG CHENG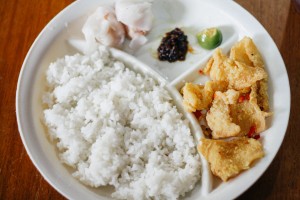 Chang Chengmight mean "Great Wall" in English, but the stall owners are perfectly fine with non-Chinese customers trying out their food offerings.
Under royal rays of sunshine, a big, red sign and a landscape painting of China's historical landmark extend their greetings. Customers will recognize the items on the stall's menu: Sweet and Sour Pork, Lemon Chicken, a selection of dumplings, and their best selling Salt and Pepper Squid. We had the latter with a side of shrimp hakaw which came highly recommended and remained true to its Chinese flavor and overall form. It was, however, tougher than most, and was more wrapper than actual dumpling. The rest of the meal seemed to follow this trend and could do with more pieces of squid to even out the rice-to-viand ratio.
You can buy their meal combos—which come with a glass of iced tea, a generous portion of rice, your viand of choice and one dumpling—at prices ranging from P90 to P110. Overall, this stall is your go to when you're craving for a quick bite and a taste similar to the Orient, but take these dishes with a grain of salt—or maybe a splash of soy sauce.
Rating: 2.5/5
[columns][two-columns]Pros:
Quick service
Customizable combo options
Dumpling of the week promo[/two-columns][two-columns]Cons:
Only one dumpling in the combo (P5 per additional dumpling)
More rice than viand
More fried batter than actual squid
Deteriorated-looking hakaw[/two-columns][/columns]
---
FRESH CO.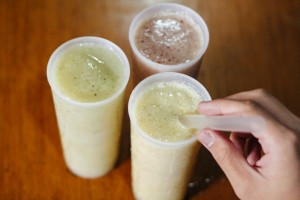 What better way is there to escape the heat of the sun than by combining a relaxing break with a slushie or a smoothie? At Fresh Co., fresh fruits of your choice blend into a colorful and refreshing drink.
For an oddly pleasant and tropical drink, say aloha to the stall's pineapple and basil combo. Perhaps enliven the dry spell with Spring Grape, a pulpy and purple grape-banana slush to relieve anyone from the muggy weather. Worth mentioning as well is Fresh Co.'s sweet and tangy Kawaii Kiwi—banana and kiwi shipped into a blender. Although very refreshing, the strong and thick flavor of the banana overpowered the kiwi.
For a very fair price range, this stall guarantees to please both the eye and palate with a refreshing and colorful blend.
Rating: 4/5
[columns][two-columns]Pros:
Customizable drinks (Combo options also available)
Uses real fruit[/two-columns][two-columns]Cons:
Relatively slow service
Overpowering banana flavor in most combination drinks[/two-columns][/columns]
---
SAVING THE WORLD WITH PETER PORKER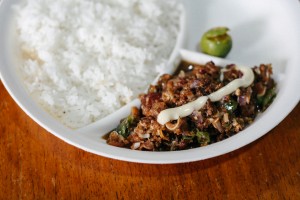 Can't save the world on an empty stomach? Aid in Peter Porker's cause by devouring one—or all?—of his three arch nemeses.
Saving the World with Peter Porker's bestseller would be Dr. Sisigmund Freud(P80).Give in to your id and order this if you love sisig but don't care much for the usual spicy aftertastes. Unfortunately, the stall doesn't offer its sisig on a sizzling platter, which can affect the popular Filipino dish's texture. Without the musical crackling and hissing hot iron plate to rest upon, it can make for quite a jellylike meal if you're not that quick an eater. Perhaps you can battle this villain better with some eggstra life—that is, you can have the meal with an egg for an additional P15.
We're not so sure how Sisigmund Freudand Edgar Allen Pork Bellyare villains, but this stall does an amusing job at keeping alive the unspoken tradition of cringe-worthy and canned laughter-inducing puns.
Rating: 3/5
[columns][two-columns]Pros:
The puns… (Verdict is still out on these. They're clever butwe just can't help but cringe)
Near-perfect rice-to-viand ratio[/two-columns][two-columns]Cons:
The puns…
Sisig turned gelatinous after a while because it wasn't served on a hot plate
Sisig should already include an egg[/two-columns][/columns]
---
BIGUETTES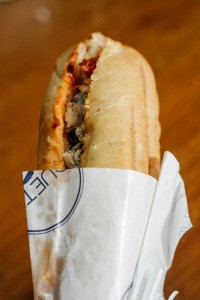 Although the owners of Biguettes wanted a sandwich stall from the beginning, they knew theirs had to be more than just a The Galley knock-off. The use of the baguette gives us a break from the usual wheat and Ciabatta we've grown accustomed to. Their concept is straightforward: Biguettes are meant to be eaten on the way to classes and meetings by those who have little time to sit down. Their execution is what ultimately sets them apart.
The stall's service is fast—significantly faster than that of stalls serving full meals. Though the crowd that comes at noon is still best avoided, Biguettes has no problem efficiently dealing with the lunch rush. The area itself stands out for its spotlessness and its bright, instantly recognizable promos.
Biguettes offers their sandwiches in either wheat bread or the traditional French baguette. Their bestseller, the Chicken Tomato Mozzarella, is named for its ingredients: Marinated chicken, mozzarella and their own tomato sauce. There's a pungent kick in their tomatoes that cuts through the slight creaminess of the mozzarella. The flavors of the chicken, however, tend to be overpowered by the sauce. Mild as it is, the Chicken Tomato Mozzarella has the potential to be a staple. It isn't the most exciting offering, but it's not meant to be. Biguettes is reliable—what more can you really ask for from a JSEC stall?
Rating: 3.5/5
[columns][two-columns]Pros:
Relatively fast service around noon
Spotless area
Reliable food quality[/two-columns][two-columns]Cons:
Flavors can be bland[/two-columns][/columns]
[button link="http://vantage.theguidon.com/submit/" color="blue1″ icon="" size="large"]Submit a review![/button]