AROUND THE WORLD IN STICKSTY DAYS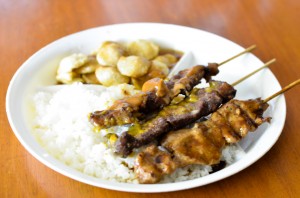 Perhaps "Around Asia in Sticksty Days" would have been a more appropriate name, as one look at the menu and the degusting globetrotter is sure to be disappointed. Overall, Around the World in Sticksty Days is good enough, but nothing great.
Their one-way trips, or solo meals, consist of the Bombay Beef Kebab with curry sauce, the Bali Pork Satay with peanut sauce or the Tokyo Chicken Yakitori with teriyaki sauce. Their meats are tender and easy to chew, albeit bland, relying on bold sauces to bring in the flavor. One stick costs P30, and each serving usually comes with three sticks.
They offer stopovers, or side dishes, as well. For only P15, you can head on over to China and grab some Shanghai siomai; but if you're craving for something a little closer to home, you can take a domestic flight to Manila for the fish balls. Although uncomfortably chewy, the fish balls are offered in a hefty serving of 15 pieces.
The one great thing about this stall is that it allows for customers to control their servings and mix and match their food. The staff is more than helpful, should you decide to have your meal with rice or without, with all beef sticks or with one of each variant. At the very least, their round trip, or combo offerings, are worth the price of P120 and are sure to fuel you up for the day. It comes with three sticks of your choice, a side dish, and carry-ons of rice and a drink (either iced tea or bottled water).
Rating: 3/5
[columns][two-columns]
Pros:
Generous servings
Customizable meals
[/two-columns][two-columns]
Cons:
Bland meats
Fish balls are oddly chewy
[/two-columns][/columns]
---
BREAD AND BREAKFAST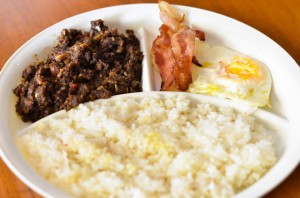 With the recent craze over all-day breakfast food, it's easy to see why Bread and Breakfast was an early favorite and overall sales record-breaking group during the JSEC Challenge. This stall serves your favorite Filipino breakfast dishes, and then some.
Bread and Breakfast is bright and welcoming with its yellow painted exterior and fun and friendly staff. Choose from three main dishes: Grandma's Tapa, Countryside Longganisa and Brother's Bangus. Each one is served with an egg prepared in the style of your choosing and a large portion of garlic rice. The tapa is noteworthy, although it is a little more on the sweet and peppery side. The bangus, albeit small, is flavorful enough and comes complete with a side of atchara.
You can spruce up your meal with a side order of bacon or oatmeal pancakes. The bacon is soft and chewy and come in two tiny slivers, which may leave bacon lovers unsatisfied. The dishes are reasonably priced at P80, or P120 for a combo meal that includes a side and a drink.  Throw in an extra P5 and get an upsized lemonade or iced coffee.
However, if rice dishes aren't your thing, ordering the Breakfast Platter for only P75 gets you a plateful of pancakes, bacon and fried eggs. Bread and Breakfast also offers a Nutella and marshmallow s'mores sandwich (P50) for those who can't resist the urge for something sweet after a savory meal.
The stall is by no means a strong rival to the many breakfast food joints out there, but it does a pretty good job at meeting that demand on campus.
Rating: 3.5/5
[columns][two-columns]
Pros:
Great service
Well-balanced menu
[/two-columns][two-columns]
Cons:
Food is unexceptional
[/two-columns][/columns]
---
CIAPAN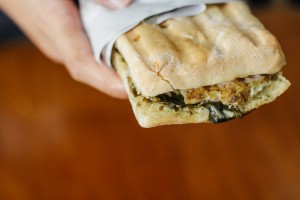 Ciapan takes its name from a combination of the
words "Ciabatta" and "Japan." Not surprisingly, the stall specializes in quirky Japanese-style Ciabatta sandwiches. Service is relatively quick, and the people manning the stalls keep a clean workspace.
Chicken Yakitori Pesto, part of Ciapan's newly launched "Renaissance line," is the stall's acclaimed bestseller. The sandwich takes the Italian flavors from the tomato-cheese-pesto combo, and its Japanese influence from the grilled chicken yakitori.
The warm, thick and crisp Ciabatta bread sandwiches have a generous amount of filling, which is enough to leave customers satisfied. However, the fusion that defines the stall's concept wasn't quite there. The supposedly Japanese skewered chicken didn't really stand out, as it was no different from the boiled chicken used for your everyday, typical chicken salad sandwich.
The pesto and tomatoes were delightfully fresh. But the overpowering taste of the melted cheddar cheese dominated in the battle of the flavors.
Ultimately, Ciapan fairs as one of the finer stalls in the JSEC. Service is good, and concept and menu seem to be well thought out. However, consistency between promo descriptions, dish names and the actual food is questionable.
Rating: 3.75/5
[columns][two-columns]
Pros:
Good service and clean workspace
Warm, thick well-toasted Ciabatta
Generous fillings and fresh ingredients
[/two-columns][two-columns]
Cons:
Chicken Yakitori was neither skewered or grilled
Cheese is overpowering
Consistency of promo descriptions, dish names and the actual food is questionable
[/two-columns][/columns]
---
COMIDA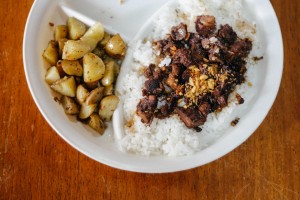 There are two kinds of meals in the JSEC: The kind we hastily buy before rushing to class and the kind we sit down to savor. While The Galley (rest in peace) perfected the former, with a dozen imitators in their wake, the most interesting places to eat are now the ones that invite us to sit down for a change. The previous year's Steak It Easy is a good example of the latter, and the successor to its space is looking promising for everyone.
Like its predecessor, Comida, the JSEC's only stall serving exclusively Spanish cuisine, caters to the students who crave more than a sandwich to tide them over until their next class. If anything, Comida is different. The promos, like its concept, are elegant, distinct and to the point—focusing on the food. It's rare that a stall relies more on great food than it does on a gimmick.
Comida is different precisely because it doesn't try to be different (the name, thankfully, remains pun-free). While service is significantly slower than the rest, especially come noon, this Spanish stall proves to be worth the wait.
Consider the salpicao (P80), a Spanish dish known for its typical unfussiness, with more variants than it has ingredients. Comida's version, made of beef, seasoned with generous portions of garlic and coated in their own Worcestershire-based sauce, always manages to hit home. Their sides include a decent churros con chocolate that may be too greasy (even for churros) and excellent marble potatoes sautéed in scallions.
The overall impression is more complex and delicate than anything you'd expect from the JSEC. Unfussy dishes are usually the most difficult to pull off, but Comida does it—and boy, does it do it well.
Rating: 4.5/5
[columns][two-columns]
Pros:
Excellent salpicao
Unique in its gimmick-free concept
Promos are distinct and to-the-point
[/two-columns][two-columns]
Cons:
Slow service[/two-columns][/columns]
---
PAN DE GOURMET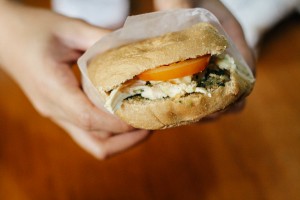 Situated right across the Loyola Schools Bookstore, at the Manuel V. Pangilinan Center for Student Leadership (MVP) basement, Pan De Gourmet's convenient location gives it a slight edge over some other stalls.
The sandwich shop, built over the bones of its predecessor The Deli Club, retained much of the last stall's designs. The similar backboard—now painted with red stripes—serves as the stall's striking background, two streetlamps hang on the wall and a big sign that reads "Pan de Gourmet" is mounted front and center.
Other than these, however, the stall is relatively bare. Pan de Gourmet makes little effort of hiding their boxes, rusting equipment, ingredients, used cups and dirty utensils—leaving the more OC and hygiene-conscious patrons cringing.
Pan de Gourmet's service is also relatively slow, taking into consideration the number of customers to entertain.
The bestselling Pesto Al Manoque is the stall's own take on everybody's favorite chicken pesto sandwich. The chicken used in the sandwich was soft and tender, while the pesto and tomato slices balanced it out. However, the pesto's flavor didn't come through—leaving the whole meal somewhat bland.
Several bites into the Pesto Al Manoque and the taste of mayonnaise becomes almost overwhelming, scrapping the whole concept of  "healthy goodness" and leaving Pan de Gourmet with less "gourmet touch" and more "lady's choice."
Rating: 2.25/5
[columns][two-columns]
Pros:
Convenient location
[/two-columns][two-columns]
Cons:
"Minimalist" design
Disorganized and slow service
The Pesto al Manoque is either bland or swimming in mayonnaise
[/two-columns][/columns]
---
SAUSAGE BENTO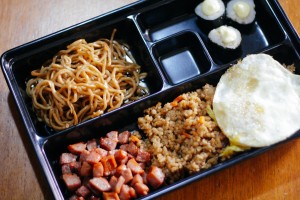 It seems only logical in the combo-crazed JSEC to have a stall patterned after the original combo meal. The bento box, a lacquered wooden lunchbox from Japan, has partitions for sides, sauces, mains and desserts. Sausage Bento takes this concept and throws in a twist, featuring sausages in an otherwise fully oriental concept.
One of their bestsellers, the Yakimeshi combo, consists of a heaping serving of fried rice mixed with diced sausages, fried egg, yakisoba noodles, your choice of side dish and a drink. For a stall named after the dish, their sausages are admittedly quite bland. The noodles were served plain, without the usual vegetables yakisoba is served with. We ordered California rolls as a side, but were unsatisfied. Expecting the usual balance of kani and mango, the dish was more mayonnaise than anything else.
Service was fast enough but disorganized. As soon as a line formed, the stall operators found it difficult to keep track of orders, sometimes mixing them up. When we finally got our order, we noticed that despite the precise partitioning of the bento, the plating was still a little awkward, making the meal look less appetizing than it actually was.
Regardless, the full meals are guaranteed to satiate the mightiest of appetites, and if you're looking for familiar Japanese food on campus, this is as good as it gets.
Rating: 3/5
[columns][two-columns]
Pros:
Filling, well-balanced meal sold at reasonable prices
[/two-columns][two-columns]
Cons:
Disorganized service
Food is often bland (yakisoba noodles, sausages and California rolls)
[/two-columns][/columns]
---
THE LUNCHBOX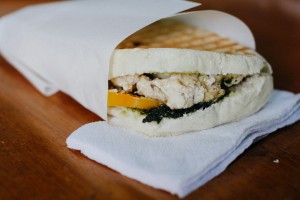 Growing up, everyone's go-to packed lunch was always the sandwich. The Lunchbox aims to capture this sense of nostalgia. Much like their bestseller, the #ThrowbackThursday, this stall follows in the footsteps of The Galley, hoping to replace the universally-loved sandwich shop with recipes of their own.
Another bestseller, the Sunday's Best, is a light snack of fish fillet, creamed spinach and cheese melted between two slices of warm, crusty Ciabatta bread. We found the fish fillet lackluster, velvety in texture but incredibly bland. The cheese and spinach didn't do enough to make up for the fish. In general, it's a passable sandwich, but if this were really the best Sunday had to offer, The Lunchbox makes for a pretty dreary start to the week.
Service is great, however, churning out sandwiches quick enough to make this an ideal go-to for food on-the-go. The execution of their concept is unfocused, but hopefully, things will improve as the year progresses. The stall may have taken The Galley's throne at the Rizal Library, but The Lunchbox needs a little more work before it can say it's earned it.
Rating: 2.75/5
[columns][two-columns]
Pros:
Quality, fresh ingredients
Fast service
[/two-columns][two-columns]
Cons:
Recipes are bland
Their concept isn't fully fledged
[/two-columns][/columns]
[button link="http://vantage.theguidon.com/submit/" color="blue1″ icon="" size="large"]Submit a review![/button]
Editor's Note: Vantage Editor Santiago J. Arnaiz is currently a co-owner of Comida.
Updated: June 23, 2014, 3:37 AM